Tejo Asmoro Waterfall in Semarang Regency, Central Java Province
---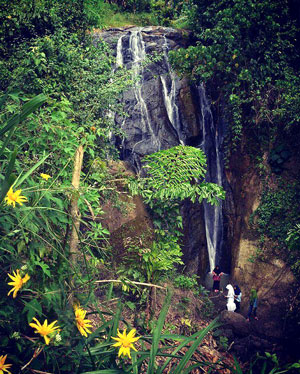 Located near to Gending Asmoro Waterfall, another beautiful natural attraction resides. The name is Tejo Asmoro Waterfall. So, where is the location? It resides in Susukan Village and belongs to Ungaran Sub-District. The prime allure is definitely the serenity, as the waterfall is located in a secluded area. That means tourists can enjoy relaxation in a comfortable manner. Not to mention the site features an amazing panorama especially due to the presence of various plants (unlike Gending Asmoro). Plus, visitors don't need to spend any money to enter the location. That means there is no ticket fee at all.
The Nuance
Here is the important information. In order to access the site, tourists should go down through a small cliff. The route is slippery, so everyone should wear proper footwear and come during a good weather (aside from rainy days). Once reaching the bottom part of the waterfall, they may see a small natural pond and some big rocks. As for the water discharge, Tejo Asmoro emits a small one. This explains why the sound of gurgling water is low there. Another impressive feature is the presence of several species of flowers growing on the sides of the cliff. Most of them are daisies.
Exploring Tejo Asmoro Waterfall
Here is the basic knowledge. Tejo Asmoro Waterfall is considered a new tourist site, so not many people know about it. This explains the number of visitors is not as many as other places. Well, this is a good thing actually. The reason is tourists can enjoy relaxation to their heart's content without much disturbance from other visitors. In other words, the site is suitable for lessening and get away from busy daily routines. Nothing can beat a secluded but beautiful natural attraction, after all.
As mentioned earlier, Tejo Asmoro Waterfall has a small water discharge so tourists can take a shower under it safely. The water is fresh and crystal clear, in fact! Below the waterfall, a small pond resides but the size is not quite big. It is a little bit disappointing because tourists aren't able to swim in it. Have no worries. The serenity of the site covers such weakness, so no one gets disappointed when spending their time at the location.
Another good thing is that tourists don't need to spend money to enter the site. No keeper is seen so Tejo Asmoro Waterfall is considered a virgin natural attraction. Due to the reason, no one is allowed to spoil the environment. Even though carrying snacks and bottled water is allowed, everyone should take care of the trash later. As for the tip, tourists should carry a plastic bag to store the trash before throwing them away in a nearby bin.
Nearby Attractions

Heaven Hill Memorial Park
Cemorosewu
Gending Asmoro Waterfall
How to Get There
The distance between Tejo Asmoro Waterfall and Ahmad Yani International Airport is 24.1 km. That means tourists need to spend about 39 minutes to get to the site. Their first destination is East Ungaran Sub-District. Next, they can simply get to Susukan Village and conduct a short trekking to the location. Here is the tip. As for the best route, they must choose Jatingaleh – Krapyak and Semarang – Surakarta Highway.
Where to Stay

Petra Villa
Puri Indrakila Hotel
C3 Hotel