Puri Maerokoco Park in Semarang City, Central Java Province
---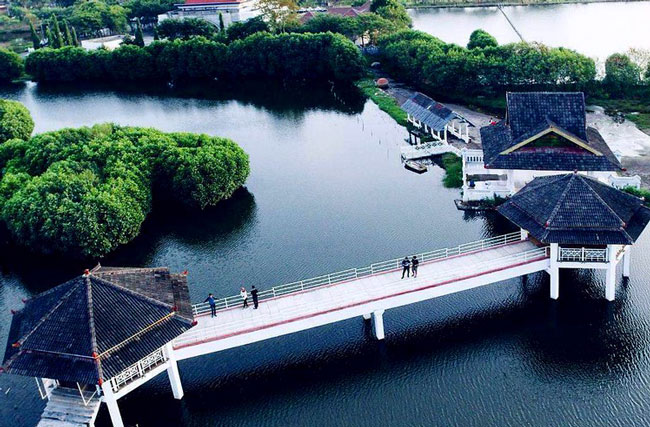 Perhaps many tourists have heard the famous vacation destination called TMII Park in Jakarta City. Well, Semarang City also has one and the name is Puri Maerokoco Park. The concept is similar to that of Jakarta's. There is a significant difference, though. Instead of offering the miniature of Indonesia's traditional houses and culture, this one only represents Central's Java regencies and culture. So, where is it? Well, the location is in Tawangsari Village and it is located in West Semarang Sub-District. No wonder, local families often come to the park with their kids during weekends. They want to teach their children regarding Indonesian culture. In fact, the site has attracted outsiders and tourists from other regions too!
The Nuance
In terms of size, Puri Maerokoco Park resides on a land with the total area of 23.84 hectares! The prime allure in the park is definitely the collection of 35 pavilions which represent all regencies of Central Java Province. The next noticeable feature is the presence of miniatures of historical objects located in Central Java. These include Pendem Fort, Borobudur Temple, Demak Mosque, etc. What is more? The park also comes with various fun rides including flying fox, merry go round, rainbow, paintball, and much more! Another recognizable feature is the mini train track, located outside the pavilions area.
Exploring Puri Maerokoco Park
The first thing that tourists should do in Puri Maerokoco Park is to learn the history. According to the locals, the park was inaugurated in the 1980s by Governor Ismail. The purpose is to provide a miniature of Central Java Province. Not to mention the local government wanted to accommodate citizens and tourists with a nice recreational area. Not only visitors can spend a wonderful family recreation, but they can also learn entire parts of Central Java Province without visiting those places directly. What they need to do is to look at the mini version of those places.
In terms of name, it derives from one of the parts of Mahabharata Epoch. It is said a beautiful goddess wanted to possess a thousand buildings and the most beautiful park only within a night. Puri Maerokoco Park is meant to resemble such perfect park in the story, actually. Here is the next important information. The park once didn't get many visitors. Fortunately, after getting several renovations, it becomes more attractive and gets more visitors over time.
Aside from learning the culture and watching all miniatures, tourists can do other fun things in Puri Maerokoco Park for sure. For example, they can enjoy fishing at the available pond. Moreover, there is the kid playground where parents can let their children play freely. Moreover, the park also features a beautiful mangrove forest to explore. There are too many attractions to explore, in fact!
Nearby Attractions

Marina Beach
Tirang Beach
Maron Beach
How to Get There
For those coming from Ahmad Yani International Airport, they only need to take Raya Pantura Street and head to Puri Maerokoco Park right away. The distance is 4.2 km, so the trip may take about 13 minutes. What tourists need to do is to get to West Semarang Sub-District first. Next, they should head to Tawangsari Village where the park resides.
Where to Stay

Airy Hotel
Fovere Hotel
Puri Garden Hotel