Curug 7 Bidadari in Semarang City, Central Java Province
---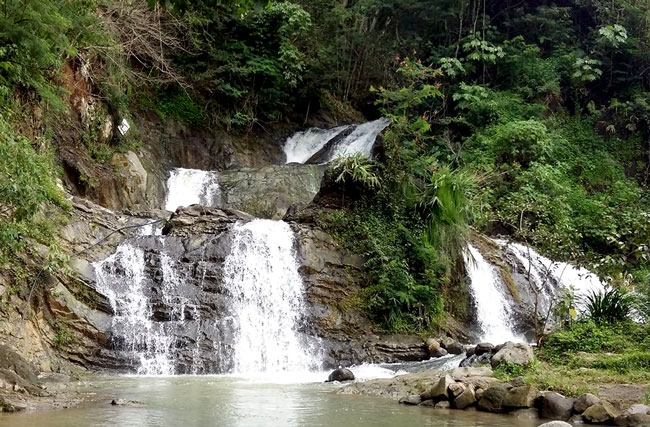 Just because Semarang is considered a big city, doesn't mean tourists can only find tall buildings and malls. The fact is it also offers many beautiful natural attractions including Curug 7 Bidadari. In terms of name, the meaning is "the waterfall of 7 goddesses". It is located in Keseneng Village and belongs to Sumowono Sub-District. The locals take advantage of the site in order to get rid of their boredom and stresses caused by daily works. As for tourists, they can drop by there while exploring nearby attractions like Gedong Songo Temple.
The Nuance
It is because the location is a little bit secluded, so visitors must undergo a short trekking to get to the site. Not to mention it is surrounded by tall trees especially bamboos. Such serene nuance helps people to relax and get rid of stresses, somehow. Once arriving at the site, tourists may see a three-layered waterfall with moderate water discharge. According to the locals, it has the height of approximately 10 meters. Once again, the location is on the slope of Ungaran Mountain so tourists should spend some time and stamina to get there. What is more? Another satisfying feature is the refreshing river where many stones reside.
Exploring Curug 7 Bidadari
One thing that makes Curug 7 Bidadari popular is none other than the legend. According to the locals, several beautiful goddesses often took a bath on the location. Some people even claimed they had seen those stunning creatures. Aside from the rural story, the waterfall also offers a nice nuance to relax. The site is surrounded by shady trees and it features a beautiful panorama as well. On top of that, the atmosphere is peaceful! Tourists can hear nothing but gurgling water and songs of birds.
The next allure in Curug 7 Bidadari is the waterfall itself. As mentioned before, it consists of 3 levels and each of them offers a distinct height and beauty. It even comes with clear and refreshing water, which is suitable for bathing and playing water. In this case, visitors should carry extra clothes as they are likely to get wet later. For those who do not want to get in the water, they can enjoy other fun activities instead. These include photography and trekking.
What is next? Visitors can take advantage of the landscape to explore the site. It is said there is an ancient well on where the goddesses took a bath! However, it takes both time and stamina to reach the well. The location is on a hilly area, after all.
Nearby Attractions

Gedong Songo Temple
Ungaran Mountain
Maria Cave
Lawe Benowo Waterfall
How to Get There
From Semarang City, tourists can directly head to Curug 7 Bidadari by any local transportation service. Their first destination is Sumowono Sub-District. Next, they only need to get to Keseneng Village where the waterfall is located. This trip takes about 1 hour and 14 minutes, as the distance is 42.5 km. As for the best route, tourists can take Raya Semarang – Boja Street.
Where to Stay

Gading Sari Hotel
Elroy Villa
Green Valley Hotel
Rawa Pening Pratama Hotel
Terra Cassa Hotel