Gambang Dance of Semarang City in Central Java Province
---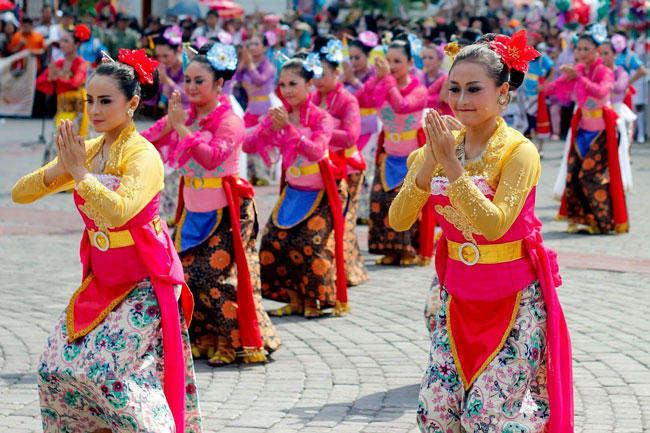 Visiting historical sites and natural attractions is a common tourist activity in Semarang City. However, everyone should not overlook the presence of beautiful traditional dances of the region as well. In this case, watching Gambang Dance would be a good idea. It both entertains and educates the audience, after all. So, what is it about? The performance involves various attractions including the traditional dance, music, comedy, and vocal. That means it offers a complete attraction to both villagers and outsiders. In fact, tourists have the chance to learn the dance later!
The Nuance
In terms of nuance, Gambang Dance offers a festive ambiance due to the variety of arts as mentioned above. The dancers are usually female teenagers and they conduct the dance on an open field. That means the audience may watch it directly on the sides of such open stage. The unique thing is the dancers wear attire combining a local and Chinese culture. Not to mention it comes in various colors. They also wear "Kebaya" and a unique head ornament! As for the accompaniment, it involves various instruments including Bonang, Kendang, Kecrek, Sukong, Balungan, and much more!
More about Gambang Dance
Even though not all people are into traditional dances, they won't refuse to watch Gambang Dance (due to the popularity). In fact, it is considered the most famous one as compared to others. Not to mention it has a distinct characteristic! In a nutshell, the dance consists of three prime movements called Ngeyek, Ngondhek, and Genjot. Despite the difference, they focus on the hip. The next noticeable characteristic is the hand moves called Lambeyan. It focuses on the wrists, actually.
Aside from the moves, Gambang Dance also offers an interesting music. Some people consider it similar to that of Gambang Kromong, but it has undergone several improvements over time. In the beginning, it represents the mixed nuance between the Chinese and Betawi. However, as the time went by, it emits a stronger vibe of the Javanese music. On top of that, it features other kinds of arts like comedy and vocal. This makes the dance more interesting to watch, no?
Another name is Semarangan Dance. The locals are proud of such creative performance, as it is able to lure tourists to visit their region. Moreover, it symbolizes the harmony between races because everyone is allowed to watch it freely. While watching the performance, tourists are even allowed to take photos either using a camera or smartphone!
Nearby Attractions

Simpang Lima Square
Lawang Semu
Tugu Muda
Brown Canyon
Kasmaran Park
How to Get There
The distance between Jakarta City and Semarang City is 457 km. That means tourists may spend about 8 hours and 27 minutes if they go by land transportation service. Also, the best route to take is Cipali Highway. As for the faster option, it is recommended to take an airplane from Soekarno – Hatta Airport to Ahmad Yani International Airport. In this case, tourists only need to spend about an hour and 5 minutes to get to Semarang.
Where to Stay

City One Hotel
Griya Rambutan
Peterongan Residence
New Metro Hotel
Dafam Hotel
Ibis Hotel