Brown Canyon in Semarang City, Central Java Province
---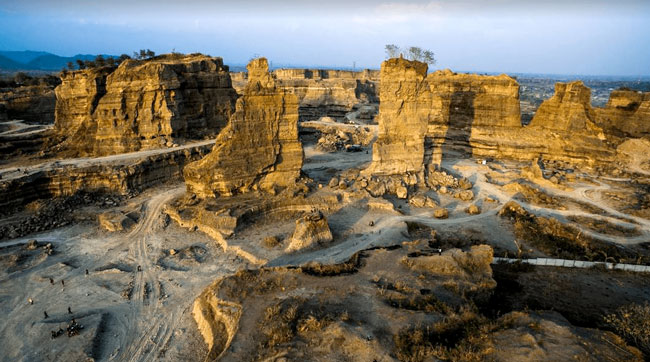 Another unique vacation spot is available in Semarang City and the name is Brown Canyon. It resides in Rowosari Village and belongs to Tembalang Sub-District. For the information, before being a new tourist site in Indonesia, it functions as a local mining area (which has been there for a decade). Both local government and nearby people take advantage of the site to mine sand and rocks, actually. As the time went by, the hills become more unique and the nuance is similar to that of the USA's Green Canyon! No wonder, it starts attracting tourists even from outside the regions. Most of them come to the location to enjoy photography and sightseeing.
The Nuance
In terms of nuance, Brown Canyon offers a distinct panorama that tourists won't find in other places. The most noticeable one is the tall cliffs and hills, which have been eroded due to the mining activity. Some of them are even covered with trees and bushes, looking so beautiful! Located near to the cliffs, tourists may find a small lake which was formed due to the mining activity as well. However, no one is allowed to swim or get in the water.
Exploring Brown Canyon
The good thing is Brown Canyon is located near to a local housing, so it comes with an excellent accessibility. The most important consideration is related to the route, which is a little bit dust and rough due to the mining activity. In order to avoid inconvenience, tourists should wear glasses and mask when heading to the site (especially during working days). It is because the miners remain active until now, so the site can be noisy and dusty at noon. As an alternative, tourists should only come either in the morning or afternoon!
Once arriving at Brown Canyon, tourists can do many fun activities especially photography. It is as simple as taking photos of those cliffs from afar or taking selfies in front of them. Once again, everyone should only visit the site on weekends (when there are no miners). Otherwise, photography won't be quite comfortable to do. Aside from those majestic cliffs, another object is worth a photo shoot. It is none other than the small lake which was formed due to the mining activity. Even though the water is murky, it remains a good object to capture for sure.
Before going home, tourists should get more information regarding Brown Canyon. For example, they must find out why miners left out some parts of the cliffs after mining. According to them, those parts were quite hard to mine so they decided to leave them. This explains why the shape looks unique but natural.
Nearby Attractions

Gapura Pelangi
Kencana Jaya Canyon
Girikusumo Tomb
How to Get There
In order to get to Brown Canyon, tourists only need to head to Tembalang Sub-District and reach Rowosari Village afterward. If they come from Ahmad Yani International Airport, they should take Semarang – Purwodadi Street for a faster trip. For the information, the distance is 18.9 km, so the trip may take around 43 minutes.
Where to Stay

Jasmine Park Hotel
Airy Hotel
DParagon
Rumi Hotel