Gending Asmoro Waterfall in Semarang Regency, Central Java Province
---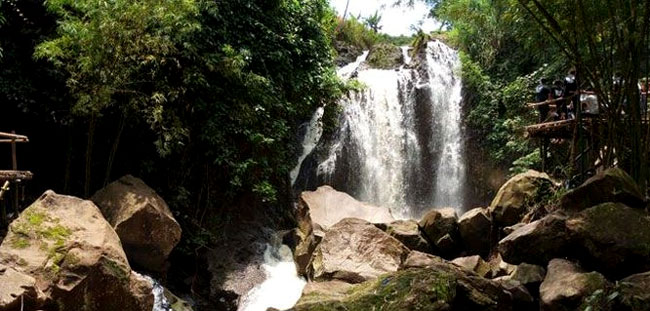 A legendary waterfall resides in East Ungaran Sub-District, which is called Gending Asmoro. To be exact, it is located in Kalongan Village and offers a beautiful panorama to visitors. It is a little bit surprising that the east part of Ungaran has such natural attraction. According to the locals, most waterfalls reside in the west part of the region only (which is near to Ungaran Mountain). Even though the waterfall is surrounded by an industrial area, it keeps luring tourists over time. It is just like an oasis in the desert!
The Nuance
When it comes to nuance, Gending Asmoro Waterfall offers a soothing atmosphere even though it doesn't come with many tall plants. Still, many bamboo trees grow abundantly near to the location. The local even calls it the bamboo forest! In fact, the locals have built a bamboo bridge in front of the waterfall on where tourists can enjoy sightseeing and photography. From that spot, a serene pond can also be seen clearly. The thing is tourists are not allowed to get in the pond due to the depth and bad clarity.
Exploring Gending Asmoro Waterfall
Some people might wonder regarding fun activities that they can do in Gending Asmoro Waterfall. Well, the simplest thing to do is to enjoy photography. The site offers several interesting objects which are worth a photo shoot, after all. Aside from the waterfall itself, another popular object is the bamboo bridge located in front of it. Usually, visitors use the bridge to take selfies in front of the waterfall. Here is the consideration. The size of the bridge is not that big, so tourists should be patient in waiting their turn when there are many visitors.
Aside from being the best spot to enjoy photography, the bridge has another significant function. It connects to a location where the second water discharge resides. After all, Gending Asmoro Waterfall consists of more than one water discharge! The first one has the height of 16 meters, while the other is about 12 meters. Have no worries. Both of them are beautiful and worth photo shoots! What is more? Located below the bridge, tourists can even see the famous river called Kresek. It features big stones and rocks, which become a great background for photography too.
Another reason to visit Gending Asmoro Waterfall is to enjoy a fun trekking or trip. It is because visitors need to pass through stairs and other challenging landscapes in order to get to the location. During trekking, they may see a stunning panorama of bamboo trees and other breathtaking scenery in fact. For those who feel tired during the trip, they can drop by in a nearby eatery and drink some fresh coconut water! Do not forget to try a delicious local dish called Lotek, as well.
Nearby Attractions

Heaven Hill Memorial Park
Cemorosewu
Tejo Asmoro Waterfall
How to Get There
For those coming from Ahmad Yani International Airport, they can directly head to Gending Asmoro Waterfall by any local transportation service. The distance is 34.9 km, so the trip takes approximately 46 minutes. Here is the tip. Everyone should take Tembalang – Ungaran Highway for a faster trip. Once arriving at East Ungaran Sub-District, the last destination is Kalongan Village where the waterfall resides.
Where to Stay

Petra Villa
Puri Indrakila Hotel
C3 Hotel