Eling Bening in Ambarawa City, Central Java Province
---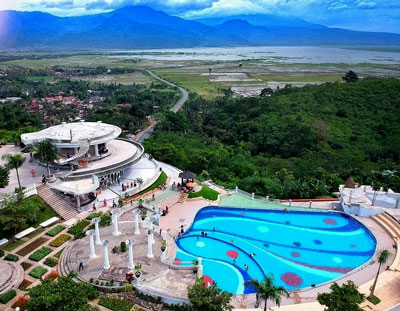 Located near to Semarang City, a beautiful neighboring region resides and it has become a good alternative to spend a family recreation during holidays. The name is Ambarawa City and it is the home of a recommended tourist site called Eling Bening. This new vacation destination opened in 2015 and has attracted lots of visitors since then! The concept is natural recreation area on where people can witness stunning mountainous panoramas and enjoy lots of facilities provided by the resort. In a nutshell, it is a perfect destination for those who look for both comfort and peace.
The Nuance
Once arriving at Eling Bening, tourists may feel the refreshing and cold air right away. No wonder, it resides in a highland surrounded by 8 mountains! Even Rawa Pening can be seen clearly from there. Aside from such wonderful scenery, the site also offers a luxurious resort that comes with tons of facilities including a swimming pool, camping ground, café, outbound, restaurant, meeting room, and much more! Do not forget the ample parking area on where visitors can park their vehicle without hassles.
Exploring Eling Bening
The main concept of Eling Bening is the mixture of natural and modern resort. The good thing is tourists are able to do many things there including a family recreation, gathering, relaxation, photography, and even wedding party! Still, the most common thing to do is to explore the site and take some photos of nature. Tourists can also enjoy the panorama and find good spots for lessening. After all, the resort is located in a highland surrounded by lush trees. What a perfect place to spend a holiday!
The next recommended thing to do in Eling Bening is outdoor activity or adventure. For the information, the site provides various facilities like a camping ground, kid playground, tracking area, archery site, flying fox, and many more! Thus, visitors should not miss any of these. Moreover, during special occasions, the management conducts a ceremonial event outdoor. Have no worries. It costs nothing to watch those shows. Later, after enjoying those activities, tourists can relax and swim at the available swimming pool. The water is both refreshing and cool, without a doubt.
Another thing to do in Eling Bening is to eat at the available café. The management offers various types of Indonesian foods with affordable prices! These include grilled fishes, soups, rawon, etc. The best part is tourists can eat those while watching stunning panoramas of mountains! This is definitely a new experience, isn't it? What tourists need to prepare is enough money to buy foods and use all the facilities.
Nearby Attractions

Getas Coffee Plantation
Ngrawan Hill
Pendem Fort
How to Get There
For those coming from Ahmad Yani International Airport, they may spend at least 53 minutes to get to Eling Bening by any local transportation service. After all, the distance is 44.5 km. As for the best route, tourists should take Semarang – Solo Highway though. Their first destination is Ambarawa City. Next, they can reach Eling Bening by heading to Bawen.
Where to Stay

Bagus Jaya Hotel
Dewi Kayangan Hotel
Crown Guesthouse