Blenduk Church in Semarang City, Central Java Province
---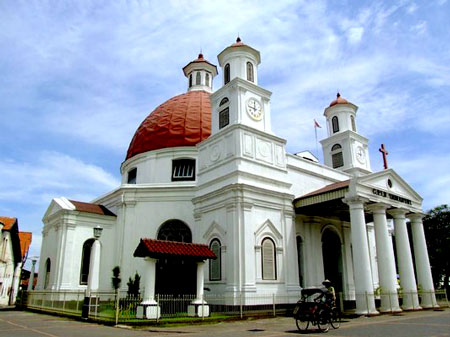 Kota Lama or Old City is the most famous area in Semarang City, without a doubt. One of the reasons is the fact that it offers tons of historical buildings and landmarks. Here is an example. The name Blenduk Church and it resides North Semarang Sub-District. To be exact, it is located in Tanjung Mas Village and it even has an official name which is GPIB Immanuel Church. In terms of function, like other churches, it accommodates the local Christians with a nice place for worshipping. Still, it also acts as a vacation spot for those who love history and photography.
The Nuance
The location is on the roadside, so all tourists are able to find it easily. What about the nuance? During working days, it looks peaceful and comfy. The ambiance changes during special events and during worshipping, though. It turns sacred and emits a stunning atmosphere at the time. When it comes to architecture, the church applies a neo-classic design with the dominant color of white. For the information, the church has been there since 1753! That old age doesn't make it look fragile and bad, though. It has two floors and 3 parts of rooms. Not to mention it applies a single façade design! Also, some other colonial buildings surround the church. What a great area to conduct photography! Don't you agree?
Exploring Blenduk Church
It is common sense. A church accommodates the Christians with a comfortable place for worshipping. However, Blenduk Church offers more than that. For instance, it is related to the location. The church resides in Kota Lama Area, so it is located near to other famous landmarks including Johar Market. No wonder, tourists can get to one place to others efficiently during exploration. This church is not an exception, for sure.
The next allure in Blenduk Church is definitely the architecture. Some people even carry a camera and take photos of all parts of the church passionately! Most of them are into vintage photography and often spend much time at Kota Lama to collect those pictures. Here is the good thing. The management allows people to conduct a pre-wedding photo session there. What they need is only the concern of the keeper and to choose the right time to do so. As long as they do not disturb worshippers, they are allowed to do it.
Relaxation becomes the next reason to visit Blenduk Church. At least, tourists can rest for a while before continuing their trip. The good thing is the church resides near to a famous park called Srigunting. Thus, visitors can take advantage of the park for lessening after exploring the building.
Nearby Attractions

Garuda Park
Contemporary Art Museum
Garuda Park
Kampung Hepi
Bubakan Park
How to Get There
For those coming from Ahmad Yani International Airport, they can take any local transportation service and head to Blenduk Church right away. Have no worries. This trip only takes about 17 minutes, as the distance is 7.4 km. For a faster trip, it is recommended to take Nasional 14 Street, though. What tourists need to do is to head to Tanjung Mas Village where the church resides!
Where to Stay

Achterhuis Guesthouse
Pelangi Indah Hotel
Horison Hotel
Metro Hotel