Kayon Pine Forest in Semarang Regency, Central Java Province
---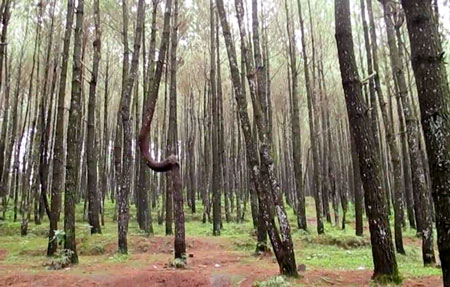 Located in Batur Village, Kayon Pine Forest gets more popularity over time. More tourists are interested in visiting the location in order to explore the forest and conduct photography, after all. The forest belongs to Getasan Sub-District and it has been included in the list of the most recommended vacation destinations in Semarang Regency too! Also, the forest resides near to the slope of Merbabu Mountain so it offers an adventure and exploration experience to visitors as well. Due to the serenity, some people also come to the forest to enjoy relaxation and get away from daily routines!
The Nuance
As the name suggests, pine trees become the main feature in the forest. In fact, the area is covered by those trees! Some of them even have a unique bent trunk, which often becomes a background for photography. When it comes to the landscape, the forest has various surfaces on where tourists can explore. Still, everyone should wear comfy footwear during exploration. Another noticeable feature of Kayon Pine Forest is the presence of crystal clear fountain located in the midst of it!
Exploring Kayon Pine Forest
The real question is what tourists can do in Kayon Pine Forest. Well, people have a different preference for it. Still, most of them want to relax and enjoy the nuance. They simply sit and walk casually around the forest! The shady atmosphere and fresh air help them to eradicate stresses, for sure. Not to mention the location is near to a mountain. That means it offers a refreshing ambiance regardless of the time. For the best experience, though, it is recommended to come only in the morning.
The next popular thing to do in Kayon Pine Forest is photography. It can be either taking selfies or explore the forest to find unique objects. As mentioned before, some trees have a bent trunk which is worth a photo shoot. However, it might take some time to find those trees. Thus, tourists must come in a good stamina and carry good equipment to support the activity. Another important aspect is related to the weather. Photography seems useless if the rain comes, no?
What is more? Another recommended thing to do in Kayon Pine Forest is to enjoy a family recreation. That means tourists should come with their families and carry foods to the site. Later, they can roll out a mat and conduct eating together, surrounded by lush shady pine trees. However, it requires the concern of the keeper before doing such activity. Also, everyone is not allowed to litter!
Nearby Attractions

Merbabu Mountain
Grinjingan Waterfall
Umbul Songo Waterfall
Panca Agro Tourism
How to Get There
In order to get to Kayon Pine Forest, tourists can take any local transportation service to Getasan Sub-District first. Next, they should head to Batur Village where the forest is located. If they come from Ahmad Yani International Airport, the trip may spend about 1 hour and 21 minutes. It is because the distance is 71.2 km. As for the best route, it is Semarang – Solo Highway.
Where to Stay

Kartika Hotel
Fortuna Hotel
Putra Giri Hotel
Griya Loka Indah Hotel