Wonderia Recreational Park in Semarang City, Central Java Province
---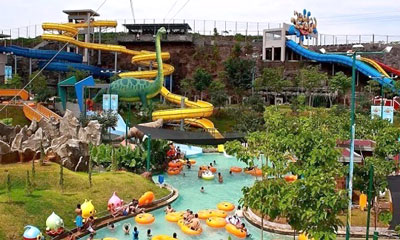 A big city like Semarang indeed has lots of vacation destinations, especially to enjoy a family recreation. For example, there is one called Wonderia Recreational Park. The location is in Tegalsari Village and resides in Candisari Sub-District. The site is usually crowded during weekends, as many local families come to enjoy relaxation and recreation. Even though the park was once closed by the local government, it reopened in 2008 after getting many improvements in terms of safety. No wonder, it attracts more people including the locals and outsiders.
The Nuance
In terms of size, the park has the total area of 3 hectares. It comes with a vast parking area, so visitors can park their vehicle comfortably. Plus, the site has several trees that give a soothing nuance to the site. The good thing is Wonderia Recreational Park opens in the morning at 9 am and closes at10 pm. Still, the most recommended time to visit the site is in the evening as the site features lots of sparkling colorful lightings. When it comes to the fun rides, the most famous ones are Space Gyro, Merry Go Round, Super Rally, and Typhoon Coaster.
Exploring Wonderia Recreational Park
Tourists can do many things in Wonderia Recreational Park for sure. For instance, there is the Ghost House. As the name suggests, visitors may enter a creepy house with lots of scary mystical creatures inside. Have no worries. Those ghosts are actually actors who dress like that. Not all people are brave enough to enter the house, though. As an alternative, they can join the occasional events done by the management. The thing is they should learn the schedule first before enjoying those performances.
The next thing to do is to ride a fun ride called Boom Boom Car. That means tourists may enjoy a fun driving experience and crush other cars merrily. Have no worries. The cars are safe to drive as they come with safety rubber bumper. Also, they don't move so fast. The next fun family activity is to ride the kiddy boat. As tourists may expect, this one is suitable for kids. Parents can let the children ride it safely on the available pool.
What is more? For a casual activity, there is Merry Go Round. Many people choose it as their favorite, in fact. For those who look for more challenging fun, they can ride the typhoon coaster, supper rally, and space gyro. After enjoying these activities, everyone should reach the available food vendors and buy some snacks. The prices are quite affordable, after all. Do not forget to take some photos as well!
Nearby Attractions

Siranda City Park
Diponogoro Park
Taman Budaya Raden Saleh
How to Get There
The good thing is Wonderia Recreational Park is located near to the downtown, so tourists only need to spend several minutes to get there. As for the distance, it is 1.8 km. Also, everyone should only take Lamper Sari and Sriwijaya Street to reach the location. Their first destination is Candisari Sub-District and they should get to Tegalsari Village afterward.
Where to Stay

Handayani Hotel
Grand Saraswati Hotel
Palm Capsule
Permata Guesthouse