Discover East Java
Bromo Mountain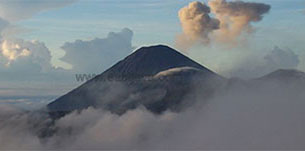 Bromo mountain, is the most popular destination in Indonesia that always been visited by both local or foreign. This mountain is also belongs to the Bromo Tengger Semeru National Park. Bromo Mountain is an active volcanic mountain that located in Probolinggo regency, East Java. At 2,329 meters (7,641 ft) it is not the highest peak after all, but is the most well know mountain.
House Of Sampoerna

House Of Sampoerna is situated in "old Surabaya", and it has Dutch colonial style compound that was built in 1858 and is now become a preserved historical site. This building was previously used as an orphanage managed by the Dutch, it was purchased in 1932 by Liem Seeng Tee, the founder of Sampoerna, with the intent of it being used as Sampoerna's first major cigarette production facility.
South Sumatra Tourism

South Sumatra province since centuries ago also known as 'The Earth of Sriwijaya'. In the 7th century to the 12th century AD, this region was the center of Sriwijaya kingdom which also known as the largest and strongest maritime kingdom in the archipelago. Echoes and its influence even to Madagascar in Africa.
Ijen Crater

Ijen Crater or Kawah Ijen is the complex of volcanic area, which there is a crater of Ijen and its plateau, which has 2,600M and 8,660 M high. Ijen crater is located in three parts of regencies, which in Situbondo, Bondowoso, and Banyuwangi, East Java. This volcanic area become the most incredible and surreal volcanic area which has a gigantic turquois crater lake in East Java.
Komodo Island

Komodo National Park also has amazing underwater life. The divers states that Komodo island is one of the best dive sites in the world. With stunning views of sea bottom where there are 385 species of beautiful corals, mangroves and sea grass, as well as home to thousands fishes, 70 sponges species, 10 species of dolphins, 6 kinds of whales, green turtles, and various types of sharks and stingrays. The combination of a variety of vegetation in the park provide a good environment for different types of animals in this region
Jampit Coffee Plantations

Jampit coffee plantations, is an agro-tourism in Bondowoso managed by PTP Nusantara Kalista Jampit VII. This plantation is located 74 km to the east district Bondowoso. This plantation has 4000 hectares and is located at an altitude of 900 M above sea level.