Lawe Bawono Waterfall in Semarang City, Central Java Province
---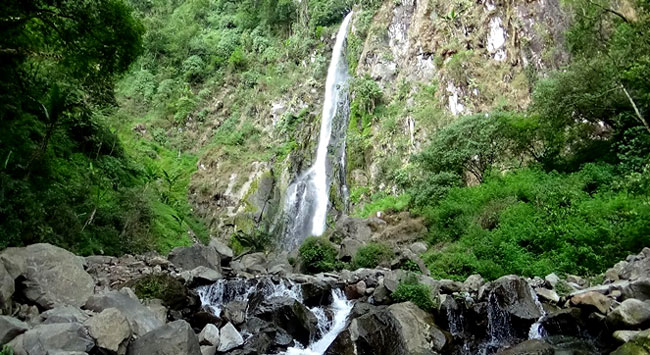 Some tourists are into natural attractions while others choose to visit historical and religious sites. Well, for those who like the first option, they must consider visiting Lawe Bawono Waterfall located in Semarang City. To be exact, it resides in Kalisidi Village and belongs to West Ungaran Sub-District. The impressive fact is that tourists may visit two waterfalls at once during the visit. As the name suggests, the site consists of Lawe and Benowo Waterfall. It resides in Ungaran Mountain and becomes upstream of Garang River. In terms of popularity, Lawe is considered better. The name derives from "Selawe", which means 25. Why is that?
The Nuance
There is a reason why people chose Lawe as the name. As mentioned before, it derives from 25. It is because the site has one big waterfall surrounded by lots of small water discharges. According to the locals, there are 25 of them. In terms of nuance, the site offers a refreshing ambiance and it has a comfy environment too due to the presence of shady and lush trees that surround the site. The location is on the slope of a mountain, after all. No wonder, it also comes with refreshing cold air.
Exploring Lawe Bawono Waterfall
It is true Lawe Bawono is a popular tourist site. However, some tourists have no idea where the location is. It makes sense as the waterfall is located on the slope of Ungaran Mountain. Not to mention it takes some efforts to get to the location. Due to the fact, it is recommended to hire a tour guide first before heading to the site. Also, despite the difficulty, tourists are able to witness a beautiful panorama all the way to the waterfall.
Once arriving at the site, tourists may see Lawe Bawono Waterfall right away. It looks both majestic and unique! One thing that makes it different is definitely the location. The waterfall resides between curvy canyons. No wonder, it is likely everyone is going to conduct photography once they arrive at the location. For the information, this one is called Lawe Waterfall. What about Bawono Waterfall? Well, it is located in a different area but it resides not far away from there.
In order to get to Bawono Waterfall, tourists should take the left route. It indeed involves a short trekking, but the reward is quite amazing. Once arriving at the location, the peaceful nuance and refreshing mountain air welcome everyone. That site is definitely suitable for relaxation and to get away from daily routines!
Nearby Attractions

Bantir Hill
Nglimut Gonoharjo Hot Spring
Djowo Sekatul Village
Watu Gunung
Umbul Sidomukti
How to Get There
A trip to Lawe Bawono Waterfall may take around 54 minutes if tourists come from Semarang City. It is because the distance is 23.9 km. What tourists need to do is to get to West Ungaran Sub-District first. Next, they only need to reach Kalisidi Village and conduct a short trekking to the site. For a faster trip, it is recommended to take Semarang – Surakarta Street.
Where to Stay

Ceria Hotel
Sinar Bahagia Hotel
C3 Hotel
Ungaran Cantik Hotel