Johar Market in Semarang City, Central Java Province
---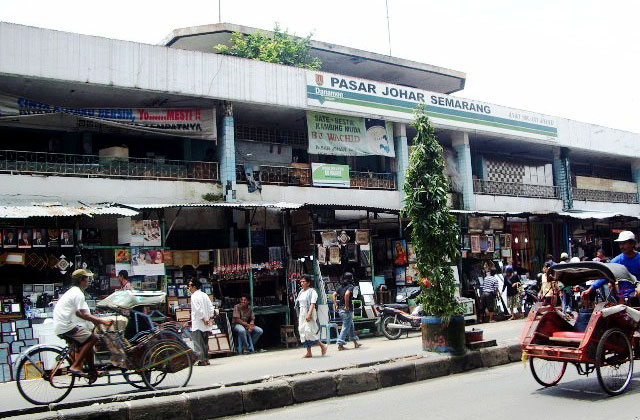 Some tourists perhaps have ever heard a famous market called Johar in Semarang City. Not only becomes the center of local trading, but the market also becomes tourist site these days. The location is in Dadapsari Village and it belongs to North Semarang Sub-District. The most impressive fact is that the market has been there since 1936! Also, it is located near to a prison and a neighboring market called Pedamaran. Plus, it has undergone several renovations due to the increasing number of visitors. As for tourists, they can either buy good stuff or simply explore the site when spending a vacation in Semarang City.
The Nuance
In terms of size, Johar Market is definitely vast. It consists of several blocks and features various types of vendors. That means visitors can find clothes, souvenirs, foods, vegetables, and much more! It even takes some time to explore the market. Thus, tourists should carry some money to buy foods and drinks in order to avoid tiredness during the exploration. Also, it is better not to come at noon as the weather is quite hot. It is also recommended to carry extra cash, as tourists are likely to buy many items later.
Exploring Johar Market
It is safe to say that Johar Market has a similar popularity and function as Yogyakarta's Malioboro. It is the place where people buy stuff and conduct a recreation. For the locals, visiting Johar has become a routine in fact. What about tourists? Well, they can also spend some money to buy various products as a souvenir. It is even worth to learn the history of the market. The architect who built the building was a Dutch named Herman Karsten. Due to such majestic design, many visitors also conduct photography in Johar.
Being an icon of Semarang City, Johar Market gives many benefits to both citizens and outsiders. Moreover, the motive is different. Some people come to explore the market and witness the trading activity directly, while others choose to buy items. As for tourists, they can take advantage of the market to conduct photography too. Thanks to the excellent design of the building. Visitors can have many excellent photos there. Taking selfies is not an exception for sure.
What is more? The next thing to do in Johar Market is to buy local foods and snacks. After all, the market features several foods stands for tourists to visit. In fact, it is possible to get cheaper prices by bargaining. Thus, make sure to ask for a more affordable price before purchasing anything at the market including foods and other items.
Nearby Attractions

Semarang Creative Gallery
Srigunting Park
Syahbandar Monument
Tay Kak Sie Temple
How to Get There
From the downtown, a trip to Johar Market may take only 12 minutes. It is because the distance is 5.3 km. Once arriving at North Semarang Sub-District, they can simply reach Dadapsari Village where the market resides. As for the best route, they must take MT Haryono Street as it is considered the fastest as well.
Where to Stay

New Metro Hotel
Tentrem Hotel
Sahara Hotel
Surya Boutique Hotel