Bukit Pandang Cemoro Sewu in Semarang Regency, Central Java Province
---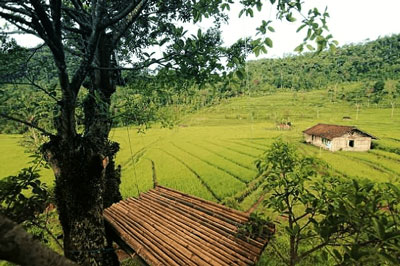 Semarang Regency is considered a perfect vacation destination due to many reasons. One of them is the presence of a complete tourist attraction including natural attractions, religious tourism, historical sites, and much more! Here is another reference. The name is Bukit Pandang Cemoro Sewu, which is located in East Ungaran Sub-District. To be exact, it resides in Kalirejo Village. This beautiful natural site also resides at the foot of Telomoyo Mountain, so it offers both stunning panorama and excellent atmosphere for spending an outdoor recreation. As for tourist activities, visitors can enjoy sightseeing, exploration, trekking, outbound, photography, and many more.
The Nuance
As mentioned before, the location is at the foot of Telomoyo Mountain. That means tourists may expect a refreshing nuance with the serene atmosphere there. After all, Cemoro Sewu resides on 900 meters above the sea level so it comes with high-quality panoramas too. The thing is tourists should conduct trekking for about 200 meters once they get to the main gate. Have no worries. The management has built several facilities to accommodate visitors, so it is going to be comfortable and easy. As for the scenery, there is Merbabu Mountain in the south part of the site. Even Rawa Pening Lake is seen clearly!
Exploring Bukit Pandang Cemoro Sewu
In terms of name, "Cemoro" means pines while "Sewu" means a thousand. As the name suggests, the site features tons of pine trees that grow abundantly there. Here is the real question. What can tourists do once they arrive at the location? The most common reason is to conduct photography at the pine forest. Thanks to the lush nuance of Indonesia. It feels like spending in a private forest, as not many people are seen there.
The next common thing to do in Cemoro Sewu is trekking. However, it takes some time and stamina to get to the main viewing post. For the information, visitors need to pass through 90 stairs to reach that spot. This tiredness is paid off once they arrive at the site, though! Located near to the viewing post, tourists may also find a big rock on where they can use for relaxation and hanging out. One thing, below them, there is a steep valley so everyone should be careful when climbing.
The next recommended spot to explore is none other than the birds' cage. There is no bird at all, though. Instead, it is a kind of photography spot having a similar shape to a cage. Thus, tourists can get inside and take some selfies to their heart's content. For the information, another viewing post is located near to the first one. The views are as astonishing as it is, for sure! Therefore, everyone should not miss the chance to climb it as well later.
Nearby Attractions

Tejo Asmoro Waterfall
Heaven Hill Memorial Park
How to Get There
It is considered easy to reach Bukit Pandang Cemoro Sewu. From Ahmad Yani International Airport, tourists can directly head to the location by taking Jatingaleh – Krapyak Highway. For the information, the distance is 30.5 km. That means the trip takes about 39 minutes or more to get to the site. Later, tourists even need to conduct a short trekking to reach the top of the hill. So, everyone should come in a good stamina!
Where to Stay

C3 Hotel
Puri Indrakila Hotel
Ungaran Cantik Hotel
The Wujil Resort