Watu Gajah Park in Semarang Regency, Central Java Province
---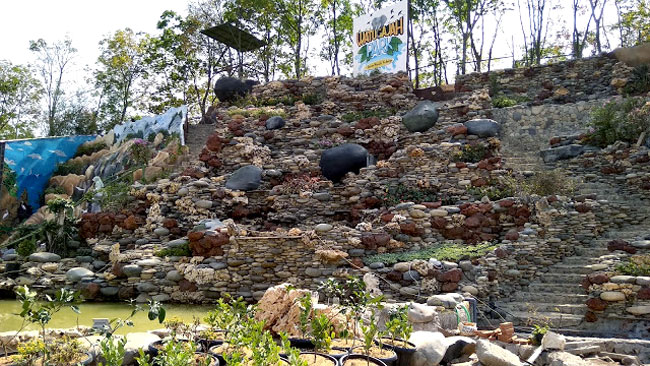 The best way to build a stronger relationship with families is to spend a recreation together. The question is where they should go. For those living in Semarang Regency and nearby regions, they should consider visiting Watu Gajah Park. As the name suggests, it is located in Watu Gajah Village and belongs to Bergas Sub-District. Not to mention it is the part of Bandungan Tourist Site, so everyone can reach the location easily. The good thing is the site is considered new, so it remains in a good condition. As for tourist activities, visitors can enjoy educational tourism, sports, culinary, recreation, and much more.
The Nuance
The first impression is the clean and neat environment. Thanks to the good management. Watu Gajah Park satisfies everyone with its sophisticated landscape and comfortable atmosphere. For those who love playing water and swimming, an ample pool resides in the park! When it comes to sports, visitors can take advantage of the jogging track and skate park. They can use those facilities to their heart's content, in fact. The next recognizable facility is the presence of insect cages, storing beautiful butterflies and fireflies. What is more? Even the park provides a fishing pond to satisfy those who have such hobby.
Exploring Watu Gajah Park
The good thing is that the park comes with lots of attractions for tourist to enjoy the exploration. The most noticeable one is the flower garden, featuring colorful and beautiful flowers. Not only does the garden soothe everyone, but it also becomes a nice place to conduct photography (especially taking selfies). After spending some time in the garden, it is recommended to visit Lorong Cinta or the alley of love. As the name suggests, tourists may see a love-shaped aisle ornamented with some plants and flowers. Somehow, it becomes a good spot to take photos too.
What is more? Watu Gajah Park also has several captive breeding cages, especially for birds and insects. The most noticeable one is the cage for lovebirds. These cute colorful birds indeed become a great feature in the park, so no one should miss the chance to watch them. Aside from that, visitors can also find butterflies and fireflies cages there. As for the tip, it is recommended to come at night in order to watch the more astonishing fireflies with their sparkling lights.
The next thing to do in Watu Gajah Park is none other than a family recreation. Once again, the site provides a comfy swimming pool for everyone to enjoy. The good news is the water comes from a nearby mountain, so it feels more refreshing and has a better clarity than regular pools. There is even "Kolam Keceh" on where kids can play water safely! Other fun facilities to use are the Skate Park, fishing pond, and outbound rides. Thus, everyone should use them all for a better experience!
Nearby Attractions

Djamoe Park
Semirang Waterfall
How to Get There
From Ahmad Yani International Airport, tourists can use any type of local transportation service and head to Watu Gajah Park right away. In this case, the best route to take is Tembalang – Ungaran Highway. The first thing to do is to get to Bergas Sub-District. Next, they only need to reach Watu Gajah Village where the park is located. The whole trip may take around 48 minutes, as the distance is 36.2 km.
Where to Stay