Gedong Songo Temple in Semarang City, Central Java Province
---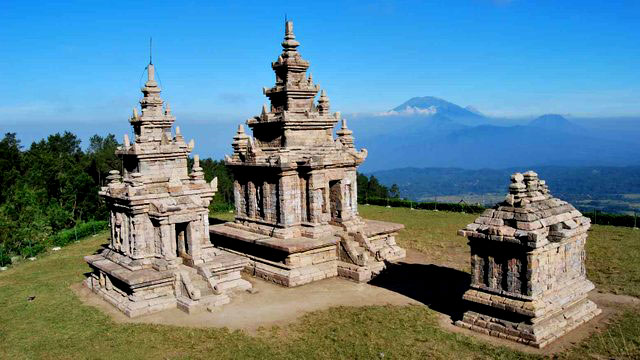 In Semarang City, tourists may find many religious Indonesia tourist sites like temples. When it comes to the most famous one, Gedong Songo Temple is the winner for sure. The location is on the slope of Ungaran Mountain and it belongs to Bandungan Sub-District. Not only visitors can learn the history of the temple, but they can also conduct an adventure and ride a local horse on the site. Plus, the location is suitable to enjoy sightseeing, family recreation, and photography! Moreover, instead of offering a single temple, it comes with many of it!
The Nuance
One thing that makes Gedong Songo Temple special is none other than the location. It resides on 1200 meters above the sea level and offers stunning panoramas of Ungaran Mountain. Not to mention it features a pine forest and flower fields! It feels like tourists spend a vacation in a fairly land surrounded by nothing but nature. Moreover, the nuance is both refreshing and peaceful to enjoy relaxation! What about the temple itself? There are many of them, located in different areas. The fact is tourists should perform trekking if they want to visit them all. The higher the place is, the better the panorama would be!
Exploring Gedong Songo Temple
The most common reason for visiting Gedong Songo Temple is to enjoy trekking. After all, tourists should spend some time and stamina to explore the site. Thus, everyone should have prepared some money to buy drinks and foods later. The good thing is the site provides several eateries on where tourists can get various foods especially Sate Kelinci. What is next? Aside from trekking, people want to learn both history and architecture of the temples. In a nutshell, Gedong Songo belongs to Hindu temple and it has a similar appearance to that of Dieng Temple.
For those who want to avoid tiredness while exploring the site, they can rent a horse and a guide instead. What they need to consider is only the fee, which often becomes more expensive during weekends and holidays. The next recommended thing to do is to take a bath in the natural hot spring. Have no worries. The management has provided a comfy pool that store both hot and fresh water. Thus, it would feel warm and comfortable for bathing.
Another common thing to do in Gedong Songo Temple is camping. In fact, there is camping ground located on a specific part of the site. Not only tourists can build the tent, but they can also install a hammock between trees. The location is surrounded by pine trees and other lush plants, after all.
Nearby Attractions

Vanaprastha Park
Kawah Ijo
Anoman Statue
How to Get There
From Semarang City, it takes about 1 hour and 6 minutes to get to Gedong Songo Temple. It is because the distance is 36.7 km. Have no worries. The trip becomes faster if tourists take Semarang – Surakarta Street. What they need to do is to go to Bandungan Sub-District first. Next, they can park the vehicle at the nearest parking area. The thing is it involves trekking to reach the temple.
Where to Stay

Rawa Pening Hotel
Green Valley Hotel
Omah Kopi Hotel