Djamoe Park in Semarang Regency, Central Java Province
---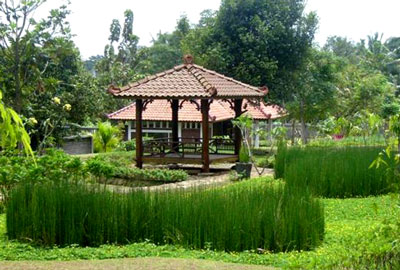 It seems Semarang Regency offers an unlimited number of vacation destinations for both locals and outsiders. These include a unique place called Djamoe Park. The location is in Bergas Kidul Village and it belongs to Bergas Sub-District. In terms of name, "Djamoe" means traditional herbal medicines/drinks. No wonder, the park offers a beautiful panorama of traditional herbs farms. Moreover, the location is in Ungaran Mountain. As for tourist activities, visitors can enjoy sightseeing, exploration, relaxation, and even drinking those healthy traditional herbal drinks. This is going to be a distinct experience for everyone, without a doubt.
The Nuance
When it comes to the nuance, Djamoe Park offers a majestic panorama of Ungaran Mountain. Not to mention the atmosphere is quite refreshing due to the mountainous air. Do not forget the park also emits the unique fragrance of various traditional herbs. What is more? Aside from those attractions, visitors can also find numerous facilities including a greenhouse consisting of more than 600 species of herbs! Also, the park comes with a spa, gift shop, restaurant, amphitheater, jogging track, herbal market, and clinic!
Exploring Djamoe Park
The first allure in Djamoe Park is the astonishing natural scenery. That means visitors are able to enjoy sightseeing and photography when visiting the park. The best panorama is none other than the traditional herbs farms that surround the park. In terms of size, it is approximately 3 hectares! The good thing is the site resides near to Ungaran Mountain. Thus, tourists may expect amazing mountainous scenery from there. Therefore, it is recommended to carry a camera when coming to the park later.
After enjoying the panorama, the next recommended thing to do is to visit the greenhouse. Once getting inside, tourists may see hundreds of species of plants! The most famous ones are Gempur, Jangkang, Kayu Rapet, Daun Ki Tolod, and Landik. For the information, all of them are good herbs to cure some diseases. Here is the good news. Visitors are able to taste various herbal drinks provided by the management. Each of those drinks even has distinct health benefits! For instance, there is Delima Putih which is good to reduce weight. It also helps women to retain their ideal body.
Aside from drinking traditional herbal drinks, tourists can also try some local foods at Taman Djamoe Resto. Those foods taste great and their price is affordable. After eating, they can get a massage at the available spa. One thing, it costs some money to get the service. Thus, everyone should have prepared some money before visiting Djamoe Park!
Nearby Attractions

Diwak Hotspring
Grenjeng Waterfall
Derekan Hotspring
Setiya Aji Farm
How to Get There
The distance between Ahmad Yani International Airport and Djamoe Park is 30.8 km. That means the trip may take approximately 44 minutes or less depending on the traffic. For a faster trip, tourists should take the fastest route which is Semarang – Surakarta Street. For the information, their prime destination is Bergas Kidul Village at Bergas Sub-District.
Where to Stay

Merissa Hotel
Arjuna Sari Hotel
Matahari Hotel
Wujil Resort