The Fountain Waterpark in Semarang Regency, Central Java Province
---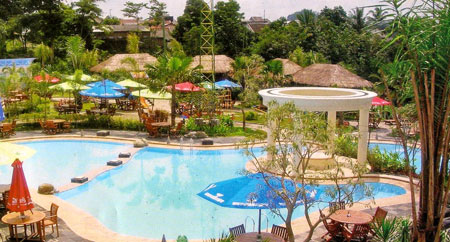 Another recommended recreational site is located in Semarang Regency, which is called the Fountain Waterpark. This serene waterpark is located in Lerep Village and belongs to West Ungaran Sub-District. So, what makes it different than other waterparks in Indonesia? In a nutshell, it is the combination of a waterpark and restaurant. That means visitors can enjoy swimming, playing water, and eating delicious foods on the site. It definitely becomes a nice place to spend a family recreation and relax alone, no? Not to mention the location is in the highland, so it comes with an amazing nuance and panorama.
The Nuance
Once arriving at the Fountain Waterpark, tourists may feel the peaceful nuance right away. Plus, it offers a comfy ambiance due to the presence of lots of plants and trees that surround the site. Even many chairs with umbrella reside in almost all parts of the waterpark. As for the pools, they come with various depths including 30 – 150 meters. That means visitors can choose one depending on their age and safety preferences. The water is clear and feels refreshing, in fact!
Exploring the Fountain Waterpark
The prime attraction in the Fountain Waterpark is none other than the formation of pools, which are suitable for both kids and adults. Even though the site doesn't come with many fun water rides, the refreshing and clarity of the water never fail to satisfy visitors. After enjoying swimming and playing water, they can simply relax at the available Joglo-style gazebos and rest for a while before enjoying other activities. If they have some money, they can order some Javanese foods and eat those while watching other visitors playing in the pools! What a comfortable nuance!
The next wonderful thing about the Fountain Waterpark is the presence of outbound facilities! In order to use those, tourists need to spend more money, though. Have no worries. It is worth the expense as they can enjoy challenging facilities like Halang Rintang, Flying Fox, mini playground, and artificial cliff climbing. Somehow, this becomes a wonderful group activity (especially done by friends or families).
Another allure in the Fountain Waterpark is the presence of a big Pendopo or hall on where tourists can conduct an event. That means everyone is allowed to rent it for their special occasions like a birthday party, pre-wedding photo session, etc. It involves several considerations, though. First, tourists should book it first in order to decide the schedule. Another important consideration is related to the budget. Somehow, it becomes pricier during weekends and holidays.
Nearby Attractions

Lawe Bawono Waterfall
Watu Gunung
BLI Swimming Pool
Semirang Waterfall
How to Get There
It is considered easy to reach the Fountain Waterpark due to the strategic location. For those coming from Ahmad Yani International Airport, they only need to spend approximately 36 minutes as the distance is 24.3 km. Their first destination is West Ungaran Sub-District. Next, they only need to reach Lerep Village where the site is located. For a faster trip, though, it is recommended to take Jatingaleh – Krapyak Highway.
Where to Stay

Safira Fountain Homestay
Joglo Villa
Balemong Resort