Diwak Hot Spring in Semarang Regency, Central Java Province
---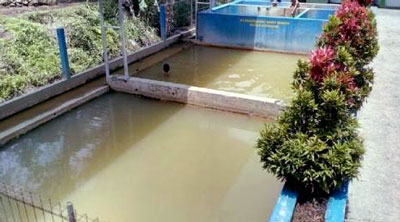 When the holidays come, people start looking for information regarding an excellent vacation destination. It would be easy if they visit Semarang Regency, actually. Many options are available, especially natural attractions. For example, there is Diwak Hot Spring located in Bergas Sub-District. As the name suggests, it resides in Diwak Village. Well, perhaps everyone has realized what kind of activity they can do on that site which is to take a bath in the hot spring. The best thing is Diwak Hot Spring opens 24 hours! That means tourists can even take a bath in the evening!
The Nuance
In terms of nuance, Diwak Hot Spring combines the refreshing atmosphere of the nearby mountain and serenity of local farms. No wonder, the ambiance is quite peaceful and soothing there. Plus, the site is surrounded by terraced farms and numerous types of trees including banana and coconut trees. For the information, the management stores the natural hot water into several ponds having different sizes. They mix it with fresh water in order to get the perfect temperature, as well. Here is the good news. Visitors are able to take a bath in such comfy ponds while witnessing the stunning panorama of nature!
Exploring Diwak Hot Spring
First things come first. Diwak derives from two words "Kendi" and "Kawak", which means the old or ancient jug. According to villagers, their ancestors named it that way due to the presence of many old jugs found in that area. The unique thing is no one knows how old exactly those jugs are. What they know is the fact that they own a famous public bath with its warm soothing water. No wonder, the village attracts lots of tourists over time both due to the history and such fabulous tourist spot.
The prime thing to do in Diwak Hot Spring is definitely to take a bath. As the preparation, tourists should carry extra clothes and some money to pay the fee. The good thing is everyone is allowed to enter the pond regardless of the age. Despite the fact, parents must take care of their kids well while bathing! Also, it is not allowed to use any soaps while bathing in it. The sulfuric water makes those soaps useless, after all.
Not only Diwak Hot Spring offers a comfortable experience, but it also gives health benefits to everyone! It is said the water is able to eradicate several diseases like rheumatism, skin issues, sore joints, and much more! The result doesn't come instantly, though. This is why many people take advantage of it to conduct a kind of health therapy. Later, after taking a bath, it is recommended to enjoy the afternoon nuance at the top of the hill. The views look romantic and breathtaking up there!
Nearby Attractions

Djamoe Park
Grenjeng Waterfall
Ngempon Temple
Tinalun Dam
How to Get There
A trip to Diwak Hot Spring may take around 48 minutes if tourists come from Ahmad Yani International Airport. It is because the distance is 32.9 km, so it takes some time to get to the site. As for the best route, they can choose Semarang – Surakarta Street. It is also the faster. Later, after reaching Bergas Sub-District, they can simply head to Diwak Village where the hot spring is located.
Where to Stay