Old City 3D Trick Art Museum in Semarang City, Central Java Province
---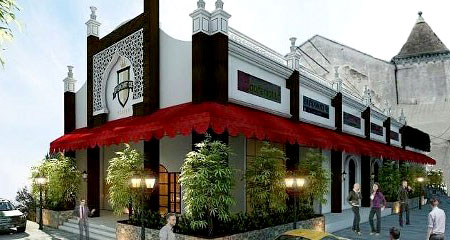 When people hear a word "Museum", they may recall a place storing lots of historical objects for sure. However, some museums also offer distinct attractions and experience to visitors. For instance, there is the Old City 3D Trick Art Museum in Semarang City. The location is in Tanjung Mas Village and it is located in North Sub-District. As the name suggests, the building has 3D arts on where tourists can take selfies. Those arts are quite tricky to the eyes, making them more interesting to capture using a camera. This explains why many local teenagers often come to the museum during their spare time.
The Nuance
In terms of nuance, the Old City 3D Trick Art Museum offers a modern ambiance and comfy environment. Not to mention it has a contemporary architecture, which appeals to all people regardless of the age. Once getting inside, visitors can explore more than 100 3D arts right away. These even come in different themes including cartoons, world's icons, movies, etc. In fact, according to the keeper, they may replace those 3D arts with new ones once every 2 or 3 months. The thing is the ticket fee is a little bit pricier as compared to other museums.
Exploring Old City 3D Trick Art Museum
Well, the museum is quite popular among local teenagers. It is because young people are so into selfies and photography these days. As mentioned before, it comes with lots of 3D arts. Still, only some of them become tourists' favorite. For example, there is Venice theme. It is, as if, tourists take photos in a real river in such beautiful city! Another popular theme is the suspension bridge, featuring a deep valley below. Have no worries. It is only a visual trick, as there is no actual valley at all.
What is more? Well, the option seems limitless. Tourists can also find various landmarks including Liberty Statue and Big Ben! Thus, make sure to take photos in front of them later. For more fun, visitors should also take selfies in front of famous people especially Christiano Ronaldo. The arts are so life-like, in fact.
For first-timers, though, there are several tips to know before exploring the Old City 3D Trick Art Museum. For instance, they must ensure that the arts are suitable for the landscape photo style. Next, it is important to wear bright clothes and has different colors to those of the arts. Another important tip is that everyone should carry a tripod!
Nearby Attractions

Srigunting Park
Johar Market
Contemporary Art Gallery
Bubakan Park
How to Get There
The distance between Ahmad Yani International Airport and the Old City 3D Trick Art Museum is only 6.4 km. That means a trip to the museum may take about 14 minutes from the airport. It even becomes faster if tourists take Nasional 14 Street. What they need to do is to get to North Sub-District first. Next, they can directly reach Tanjung Mas Village where the museum resides.
Where to Stay

Horison Hotel
Metro Hotel
Griya Pantes Hostel
Pelangi Indah Hotel