Kereta Api Museum in Ambarawa City, Central Java Province
---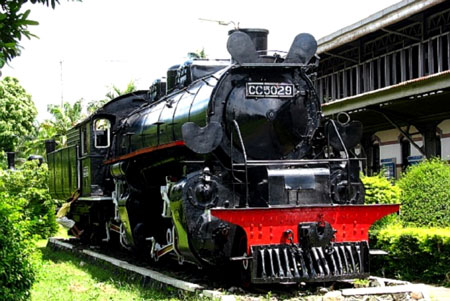 When spending a vacation in Semarang City, tourists should not forget to drop by in neighboring regions including Ambarawa City. What is that? It is the home of a famous vacation destination called Kereta Api Museum! The location is at Stasiun 1 Street in Panjang Village, actually. In terms of name, "Kereta Api" means railway. No wonder, visitors can find old trains on the site. These include steam and diesel trains! Plus, they have the chain to ride them and explore nearby panoramas! After all, the site used to be a local train station back then.
The Nuance
In terms of nuance, it offers a peaceful and refreshing ambiance due to the fact that it is located in a highland. In front of the building, tourists may find an old locomotive displayed near to the park. It becomes the perfect spot to take photos, somehow. For the information, the local government conducts a good management to the museum. This explains why both the environment and service are quite excellent. The only thing that matters is only the fee to ride those trains. Thus, make sure to carry enough cash while coming to the site.
Exploring Kereta Api Museum
The first allure in Kereta Api Museum is definitely the history. According to the locals, the site used to be a train station. However, due to inactive routes, it turned into a museum instead. No wonder, it has attracted many tourists especially those who live in Ambarawa, Semarang, and nearby cities. Aside from learning the history, tourists can also see historical trains on the site. The most popular ones are B 2502, B2503, and B5112. In fact, they are quite rare!
The next recommended thing to do in Kereta Api Museum is photography. This explains why all tourists should carry a camera to the site. Not only visitors can take photos of those exotic trains, but they also have the other objects to capture including train heels, ticket machines, and calculator. One thing, everyone is allowed to take pictures of those objects but they are not allowed to touch them.
Another thing that tourists can do in Kereta Api Museum is to ride the steam train. There are two routes to take, which are Ambarawa – Tuntang and Ambarawa – Bedono. During the ride, tourists may see stunning panoramas including Ungaran, Telomoyo, and Merbabu Mountain! The thing is the ticket fee is quite expensive and tourists should book it first (especially during holidays). Also, it is better to come in a group for a merrier nuance.
Nearby Attractions

Pendem Fort
Palagan Ambarawa Monument
Eling Bening
Kampung Pelangi
How to Get There
If tourists come from Ahmad Yani International Airport, they may spend about 58 minutes to get to Kereta Api Museum. It is because the distance is 47.6 km. As for the best route, it is recommended to take Semarang – Solo Highway (which is the fastest). There is no need to hire a tour guide, though. It is because the museum is easy to find due to the strategic location.
Where to Stay

Melati Hotel
Tentram Hotel
Empat Saudara Hotel