Kota Lama in Semarang City, Central Java Province
---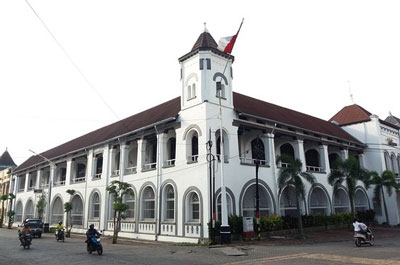 Being a big city in Indonesia makes Semarang attractive and worth to visit, no? In fact, it consists of various vacation destinations, especially historical sites. One of them is called Kota Lama and it is located in North Semarang Sub-District. To be exact, it resides in Bandarharjo Village and becomes a perfect location to enjoy photography and exploration. In terms of name, "Kota" means a city and "Lama" means old. As the name suggests, it is the old city where tourists can find many old buildings left by the Dutch during the Colonial Era.
The Nuance
Kota Lama consists of several areas that come with a distinct nuance. The good thing is tourists are able to explore them all freely. Most of the buildings apply the Dutch architecture, for sure. In fact, these structures have been there since the 18th century. Despite the age, the condition remains good and sturdy. The appearance doesn't look too good, though. It is because the local government wants to retain its historical value, so they decided to keep it that way. Here is the tip. Tourists should hire a local guide to show good spots in Kota Lama. It is because the size is quite big, so first-timers are likely to get lost during the exploration.
Exploring Kota Lama
The first benefit in visiting Kota Lama is to learn the history, without a doubt. According to the locals, it was once the central government and the site where the Dutch live. This explains why many people give another name to it, which is the Little Netherland or Outstadt. In terms or architecture, it represents the buildings in the 1700s. The most noticeable characteristic is the big wide doors and windows. Some structures even feature a basement!
For the information, the center of attraction is located in Blenduk Church. Thus, tourists should not miss the opportunity to visit that building and take photos there. The next allure in Kota Tua is the presence of water canal that surrounds the area. It even comes with bridges, especially the one called Berok Bridge. That spot is quite popular for enjoying photography and sightseeing, actually.
Other famous spots are Marabunta Building and Srigunting Park. The location is near to each other, so tourists should not miss them. Also, due to the uniqueness, Kota Lama often becomes a spot to conduct a pre-wedding photo session. It is because the couples want to apply a vintage nuance to their photos. What is more? Another recommended thing to do in Kota Lama is to buy some unique items sold by local vendors. These include old toys, literature, and much more! Those can be a nice collection or souvenir, no?
Nearby Attractions

Srigunting Park
Syahbandar Monument
Tay Kak Sie Pagoda
How to Get There
It is easy to get to Kota Lama. If tourists come from downtown, they can directly head to North Semarang Sub-District and reach Bandarharjo Village. Have no worries. This trip only takes about 12 minutes, as the distance is 5.3 km. Tourists should take MT Haryono Street for a faster trip, though. Once again, it is recommended to come with a tour guide who can give thorough information and direction while exploring the site.
Where to Stay

New Metro Hotel
Pelangi Indah Hotel
Johar Hotel
Sleep & Sleep Inn