Bukit Lerep Indah Pool in Semarang Regency, Central Java Province
---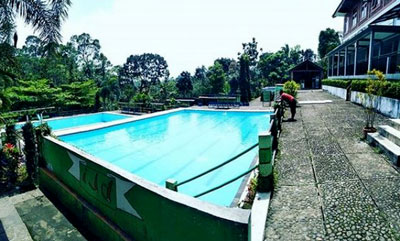 Semarang Regency consists of many regions, especially Semarang City (which is the capital of Central Java Province). However, tourists have many options when it comes to a vacation. In West Ungaran Sub-District, for example, they can find a nice place to spend a family recreation – Bukit Lerep Indah (BLI) Pool. As the name suggests, it is located in Lerep Village and offers nice pools to play water and swim. Unlike regular pools, Bukit Lerep Indah is proud of their superb refreshing and crystal clear water. Another impressive fact is that it resides in a highland, so it comes with a great panorama and pure air.
The Nuance
There is the reason why Lerep Indah Hill has high-quality water. Unlike others that take advantage of groundwater, this one gets the water from the nearby mountain. No wonder, it feels more refreshing and has a better clarity. Actually, the site offers 3 main pools (having a different height). One of them is suitable for kids or beginners, so it is safe for everybody. From the pool area, tourists can also witness lush trees and the stunning panorama of the mountain! For the information, tourists need to pay the ticket in order to enter the location. If they come with a private vehicle, they should pay the parking fee too.
Exploring Bukit Lerep Indah Pool
It is, without a doubt, the prime activity to do in Bukit Lerep Indah is either playing water or swimming. As mentioned before, the water comes from Ungaran Mountain so it feels fresher and has a better clarity. Tourists can even choose a pool that suits their preferences. Kids, in this case, should pick the shallow one though. The thing is the site becomes crowded during weekends and holidays. For some people, such condition seems uncomfortable.
Aside from swimming, BLI is also suitable for relaxation. It is because the site provides comfy rooms that tourists can rent to spend the night. Other facilities include a hall and meeting room! Thus, it can accommodate several events as well. What is more? The next recommended thing to do in Bukit Lerep Indah is exploration. In fact, the location has a trekking route for tourists to explore. Also, behind the building, tourists may find an ample area to conduct outbound activities.
Another thing to do in BLI is none other than lessening. That means tourists may spend some time sitting while watching natural panoramas. For a more peaceful nuance, it is recommended to come aside from weekends and holidays though. Also, do not forget to carry enough money to get all the services provided by the management including the room and foods.
Nearby Attractions

Tirto Argo Siwarak Waterpark
Watu Gunung Pool
Willem II Fort
How to Get There
From Ahmad Yani International Airport, tourists can directly head to Lerep Indah Hill by taking Jatingaleh - Krapyak Highway. Their destination is Lerep Village at West Ungaran Sub-District, actually. This trip may take around 44 minutes, as the distance is 26 km. Also, for first-timers, it is recommended to hire a tour guide in order to get to the location efficiently.
Where to Stay