Puncak Kelir in Semarang City, Central Java Province
---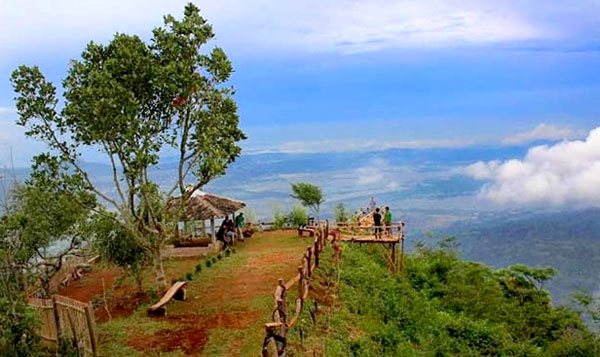 These days, more people are into photography. This explains why they always look for a new place to satisfy such hobby. As for the reference, Puncak Kelir should be another wonderful spot to collect great photos. The location is in Gertas Village and it belongs to Jambu Sub-District. Not to mention it is the part of Ambarawa City at Semarang Regency. The prime concept is a natural viewing post on where tourists can enjoy sightseeing and photography. In fact, some people also take advantage of the site to enjoy relaxation and to eradicate stresses.
The Nuance
As the name suggests, Puncak Kelir is the part of Kelir Mountain. It resides on 715 meters above the sea level, so it comes with refreshing air and superb panoramas. Even the sea of clouds can be seen clearly during a good weather! As for other views, tourists can see Merbabu and Telomoyo Mountain. Moreover, Rawa Pening Lake is also seen beautifully from up there. If tourists come early in the morning, they can witness the stunning sunrise! What about the facilities? There is a gazebo located on the top of it, so tourists can rest and relax while watching those panoramas. Another impressive feature is the presence of a campground located in some parts of the site. Thus, camping is also recommended there.
Exploring Puncak Kelir
People have many reasons for visiting Puncak Kelir. One of them is to enjoy an outdoor adventure or trekking. The fact is everyone needs to spend about 2 hours in order to get to the top of the hill. Also, it is done by trekking! Despite the tiredness, it gives a satisfaction to those who love nature and hiking. Not to mention a stunning panorama accompanies everyone while heading to the site.
The next reason for visiting Puncak Kelir is to conduct camping either with friends or families. If tourists don't want to suffer from carrying heavy camping equipment, they can simply hire a porter. Have no worries. The fee is reasonable. As for the camping ground, the size is big enough to accommodate both local campers and those who come from other regions. According to the keeper, it is able to accommodate up to 100 campers!
Photography becomes the next reason why many people visiting Puncak Kelir. After all, there is a Pine Forest located near to the site. Plus, the mountainous views welcome everyone once arriving at the top of the hill. For a more stunning panorama, it is also recommended to come at night! The sparkling lights of nearby settlements are seen beautifully from up there.
Nearby Attractions

Gili Indah
Batu Penganti
Gunung Watu
How to Get There
In order to get to Puncak Kelir, tourists should head to Ambarawa City first. Next, they can directly head to Jambu Sub-District and reach Gertas Village afterward. This trip may take around 1 hour and 18 minutes if they come from Ahmad Yani International Airport. For the information, the distance is 57.8 km. Also, the trip becomes faster if they take Semarang – Solo Highway. Once arriving at Gertas, the last thing to do is to conduct trekking to the top of the hill.
Where to Stay

Mesastila Resort
Oase Van Java
Griya Wijaya Hotel