Traditional Foods of Semarang City, Central Java Province
---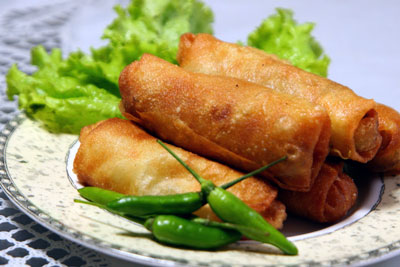 Almost all tourists won't miss the chance to enjoy traditional foods when exploring a specific region. In this case, Semarang City is not an exception. So, what can people find there? Perhaps the most famous one is Bandeng Presto which is the soft-boned milkfish. However, Semarang also offers other foods and snacks for tourists to try during the visit! These include Babat Gongso, Lumpia, Tahu Pong, Tahu Gimbal, Es Congklik, and Wingko Babat. What tourists need to do is to talk to their tour guide regarding where to get those foods and how to get cheaper prices.
The Best Place to Get Them
It is common sense. Some tourists might order and get those foods from the hotel they are staying at. It is not wrong, after all. However, they need to realize that the prices are more expensive if they get it that way. As an alternative, they must visit local eateries or snack center. In Semarang City, two best places to get traditional foods are Pandanaraan Street and Simpang Lima Square. The good thing is they can also get cheaper prices by bargaining.
Exploring Traditional Foods
It is true soft-boned milkfish or Bandeng Presto is the most popular food that tourists can find in Semarang City. Still, many other options are available. Let's start with Lumpia! This snack is the combination of the Indonesian and Chinese culinary, actually. It is deep-fried and consists of several fillings including chicken bits, bamboo shoots, etc. As an alternative, there is another popular snack called Wingko Babat. The main ingredients are coconuts and glutinous rice. The best thing is the snack comes in many flavors including the original, young coconuts, chocolate, jackfruit, durian, and much more!
As for the main course, Semarang City has a delicious dish called Babat Gongso. In a nutshell, it is the variety of innards including tripe, liver, lung, spleen, and much more. The locals cook them well and include special spices to make them delightful! One thing, due to special taste and uniqueness, the dish costs more expensive than others. Tourists should carry extra cash, therefore. For those looking for more affordable foods, though, they can get Tahu Gimbal. The main ingredients are fried tofu, bakwan, tempe, and sliced cabbage. Plus it comes with peanut dressing.
The next recommended traditional food to try is Tahu Pong. This one is actually a fried tofu. However, it doesn't have any fillings. This explains why people called it "Pong" or "Kopong", which means hollow. As for drinks, Semarang City has the most famous dessert called Es Congklik. It tastes sweet and refreshing, consisting of various ingredients. These include avocado, durian, kelengkeng, soursop, lychee, and much more!
Nearby Attractions

Simpang Lima Square
Lawang Semu
Tugu Muda
Brown Canyon
Kasmaran Park
How to Get There
The distance between Jakarta City (the capital of Indonesia) and Semarang City is 457 km. That means the trip might take around 8 hours and 27 minutes if tourists come by land transportation service. As an alternative, they can take an airplane from Soekarno-Hatta Airport to Ahmad Yani International Airport. This way, they only need to spend about 1 hour and 5 minutes to reach Semarang.
Where to Stay

City One Hotel
Griya Rambutan
Peterongan Residence
New Metro Hotel
Dafam Hotel
Ibis Hotel