Metro Stables in Semarang Regency, Central Java Province
---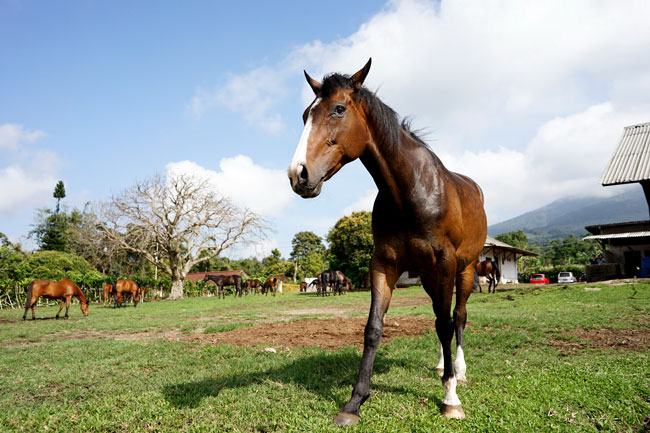 Lots of tourists have recognized a beautiful vacation spot called Bandungan Tourist Area in Semarang Regency. However, not many of them are aware of the presence of Metro Stables! This horse ranch opens for public and becomes a nice alternative to spend a holiday with families, without a doubt. The exact location is in Kenteng Village, actually. Moreover, it has been there since 1989! The management uses the site to breed and take care of imported horses until now, in fact. However, it was inaugurated as an official tourist site in 2017. This explains not many people know about it.
The Nuance
For the information, Metro Stables resides on 900 meters above the sea level. That means the ranch features refreshing air and comfortable atmosphere of the mountain. The next important fact is that the site has a strategic location, which is located near to Bandungan Market and Green Valley Resort. What about the nuance? As everyone may expect, they can see healthy and majestic horses on this ranch. Moreover, those are imported so they come in a good shape and better physical condition. When it comes to the environment, the site features numerous types of plants and trees. Somehow, it is suitable to conduct a pre-wedding photo session too
Exploring Metro Stables
Once arriving at Metro Stables, tourists can start exploring the site. That means they may take advantage of the beautiful panoramas either by doing sightseeing or photography. The ranch is located in a highland, after all. Aside from enjoying the scenery, visitors can enjoy the prime activity which horse riding. Not only it is fun, but the activity helps everyone to burn some calories! It also gives everyone the chance to ride an imported horse, in fact.
Have no worries. Even beginners are able to enjoy horse riding a comfortable manner. It is because they get an instructor who gives the tips and information how to ride one properly. What about children? The good news is they can also enjoy the activity, as many ponies are available in the ranch. What is more? For those who have lots of money, in fact, they are allowed to purchase a horse directly. One thing, the price is definitely pricier than regular horses. Those are imported, after all.
In some cases, Metro Stables is also suitable to spend a family recreation. Thanks to the presence of the kid playground where kids can play various rides including see-saw, slides, swingers, etc. Not to mention several gazebos reside near to the ranch on where tourists can find food vendors selling Getuk Goreng, Meatballs, local beverages, and many more.
Nearby Attractions

Celosia Flower Garden
Legok Madu
Valentine Karaoke
How to Get There
In order to get to Metro Stables, tourists must head to Bandungan Sub-District first. Next, they can simply head to Kenteng Village where the ranch is located. For those coming from Ahmad Yani International Airport, they may spend about 1 hour and 6 minutes to get to the site. The distance is 41.7 km, after all. Here is the tip. The trip becomes faster if they take Semarang – Surakarta Street.
Where to Stay

Elroy Villa
Green Valley Hotel
Nugraha Wisata Hotel
Azaya Hotel