Kampung Batik in Semarang City, Central Java Province
---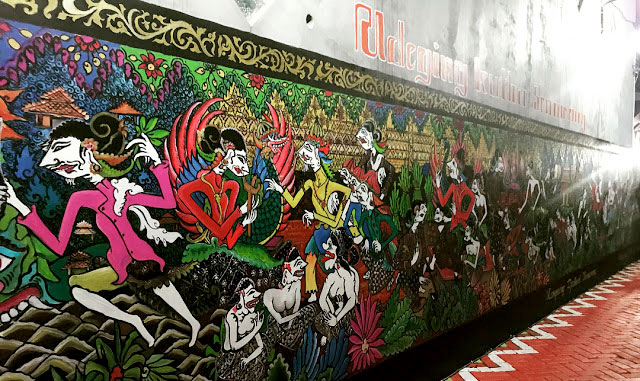 Some tourists perhaps are not aware of the presence of famous area called Kampung Batik when exploring Semarang City. In a nutshell, it is the local shopping center for beautiful Batik fabrics! The location is in Bojong Village and it belongs to East Semarang Sub-District. Have no worries. The location is quite accessible as it resides near to Johar Market and Kota Lama. As for tourist activities, they can either buy the products or meet the makers directly. They even have the opportunity to learn how to make one! What a rare experience!
The Nuance
Once arriving at Kampung Batik, tourists may see unique wall paintings that surround the area. The main concept is definitely the fabric itself. Unlike regular villages, this one is the home of many Batik artists. Those people mostly work as a Batik maker, for sure. For the information, those people work at home! That means their house functions as both a production house and store, on where tourists can enter freely. With the owner's concern, visitors are even allowed to watch the procedure and learn how to make one.
Exploring Kampung Batik
One of the reasons for visiting Kampung Batik is to conduct photography. Visitors can find many unique objects to capture, after all. For example, they can visit the production houses and take photos of the Batik making process. Still, it requires the concern of the owner so tourists should not carelessly do so. Next, they can reach public walls on where beautiful Batik paintings reside. The idea is to take selfies in front of those walls. Moreover, each wall offers a distinct design. That means all of them are worth to explore.
What is next? It would be a waste if tourists don't buy Batik fabrics when visiting Kampung Batik. Have no worries. The price varies, so everyone can look for the cheap ones. Those who want high-quality products, though, they can spend more money to purchase the best fabrics. Once again, the locals use their house as both house production and showroom. Thus, tourists need to enter the house to scan and pick a fabric that they like. Not only the locals sell Batik fabrics, but they also offer other items including key chains, shoes, bags, and other accessories. The thing is those objects have the Batik design on it.
The next thing to do in Kampung Batik is none other than witnessing the making process. Before doing so, everyone must ask permission from the owner of the house production first. In some cases, for lucky tourists, they can learn to make one by the guide of the owner. Sometimes, it costs some money to get such special lesson.
Nearby Attractions

Bubakan Park
Kampung Djadoel
Kampung Hepi
Tawang Lake
How to Get There
From Ahmad Yani International Airport, a trip to Kampung Batik may spend only 18 minutes or less. The distance is 7.8 km, after all. What tourists need to do is to head to East Semarang Sub-District first. Lastly, they only need to get to Bojong Village. As for the best route, they must take Nasional 14 Street.
Where to Stay

Horison Hotel
Aston Hotel
Airy Hotel