Kali Pancur Waterfall in Semarang City, Central Java Province
---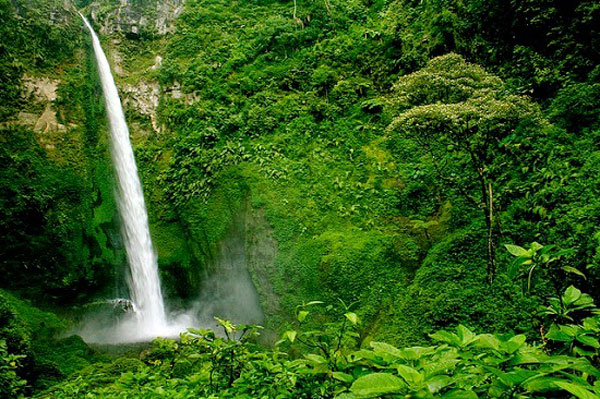 Not all people realize that Semarang City also has some majestic waterfalls. Well, it is because they don't have enough information or references. Have no worries. They can start with Kali Pancur Waterfall, located in Getasan Sub-District. The exact location is in Nogosaren Village and it resides near to the border between Semarang and Salatiga City. It is true tourists may undergo a long trip and a short trekking in order to get to the site. Still, it is going to be fun due to the beautiful panorama of Merbabu and Telomoyo Mountain!
The Nuance
The difficult access makes Kali Pancur Waterfall is not as popular as others. Despite the issue, no one denies the beauty of it. Once arriving at the gate or entrance, tourists must pay the ticket first. What they can see is only lush nature with tons of trees. The good thing is the management has built stairs on where people can walk to get to the location. It takes about 800 meters to walk to the site, actually. What about the appearance of the waterfall itself? Well, it is definitely astonishing! The height is 150 meters and it has several features like small caves and swallow's nests!
Exploring Kali Pancur Waterfall
Being a new official tourist site in Semarang City, Kali Pancur Waterfall gets more visitors over time. Not to mention the popularity increases as the time goes by. What tourists need to do is to reach Nogosaren Village at Getasan Sub-District. It is the checkpoint before trekking to the location after all. For the information, it takes a ticket fee to enter the area. Have no worries. The local government uses the money to retain and improve that new tourist site.
Here is the question. What can tourists do in Kali Pancur Waterfall? The first common thing to do is none other than sightseeing. It is because the waterfall is surrounded by stunning panoramas including lush green trees, valleys, and much more. Due to the fact, it is recommended to carry a camera and take some photos of those natural attractions. Another tip is related to the time of visit. In order to feel the fresher air and more comfortable nuance, tourists should come early in the morning!
Another allure in Kali Pancur Waterfall is the presence of an old structure, which is used to conduct rituals and hermitage by some people. It is said the waterfall emits a mystical nuance, so some villagers take advantage of it to get power and spiritual enhancement. Not all people believe it, though.
Nearby Attractions

Kopeng Recreational Park
Salatiga City
Ungaran Mountain
How to Get There
The distance between Semarang City and Kali Pancur Waterfall is 66.7 km. That means the trip may take about 1 hour and 18 minutes to get to the location. It can even be faster if tourists take Semarang – Solo Highway. Once arriving at Getasan Sub-District, tourists only need to reach Nogosarn Village and conduct a short trekking to the gate/entrance. It takes more walks to the waterfall later, so make sure to come in a good stamina.
Where to Stay

Oase Van Java
Fortuna Hotel
Family Hotel