Mangkang Zoo in Semarang City, Central Java Province
---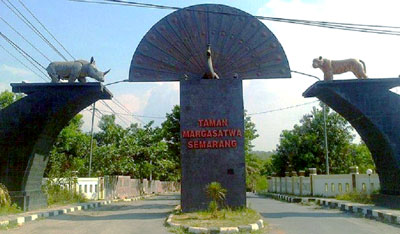 Families need to have a regular schedule when it comes to recreation, for sure. In this case, visiting a zoo is the simplest option. For those living in or visiting Semarang City, their destination is none other than Mangkang Zoo. It is located in Tambakaji Village and belongs to Ngaliyan Sub-District. The local government decided to build it in order to accommodate people with a worthy educational tourist site, after all. This way, visitors can learn various types of Indonesian flora and fauna while exploring the zoo. Somehow, it becomes a perfect place to spend a family recreation as well.
The Nuance
Once arriving at Mangkang Zoo, the first thing that tourists may notice is the fabulous gate. It has three big animal statues which are a tiger, peacock, and rhinoceros. In front of the gate, many food vendors reside as well. What about the size of the zoo? According to the keeper, the total area is approximately 9 hectares. Have no worries. Despite the big size, tourists can explore it comfortably by taking advantage of a mini train service. That means they don't have to walk during the exploration.
Exploring Mangkang Zoo
Well, tourists have two options in how they travel around the zoo. First, they can simply walk to get around the site. As an alternative, they can pay some money and ride the mini train to explore the zoo. As for tourist activities, sightseeing is definitely the prime thing that tourists might do there. That means visitors may see all the animals kept in the zoo and take photos of them. For the information, the site has more than 40 species of animals. In fact, the number keeps increasing each year.
What is more? Aside from watching animals and photography, tourists can do more things at Mangkang Zoo. For example, they can spend some money to ride an elephant! Have no worries. The price is quite affordable. Also, they can use the money to ride a horse and "becak"! For more fun activities, tourists should use other facilities including the flying fox, boat ride, and even water boom! For those coming with kids, they should not miss the opportunity in watching animal movies too.
As for the tip, visitors should come during a good weather. If they come at noon, they should have prepared a hat or other similar items. It is because the site becomes too hot at noon, especially during the dry season. It is also recommended to carry enough cash. Tourists might use it to pay the ticket fee, foods, and fun facilities, after all.
Nearby Attractions

Lalulintas Park
Sendang Kaliancar
YS Fishing Pond
Marina Beach
How to Get There
The distance between Ahmad Yani International Airport and Mangkang Zoo is 12.9 km. That means the trip takes only about 22 minutes to get to the zoo. Here is the tip. Everyone should take Walisongo and Jendral Urip Sumoharjo Street to get there faster. Their first destination is Ngaliyan Sub-District. Lastly, they only need to reach Tambakaji Village where the zoo is located.
Where to Stay

Lele Hotel
Sri Roro Indah Hotel
Front One Inn
Mutiara Hotel