Padangrani Market in Semarang City, Central Java Province
---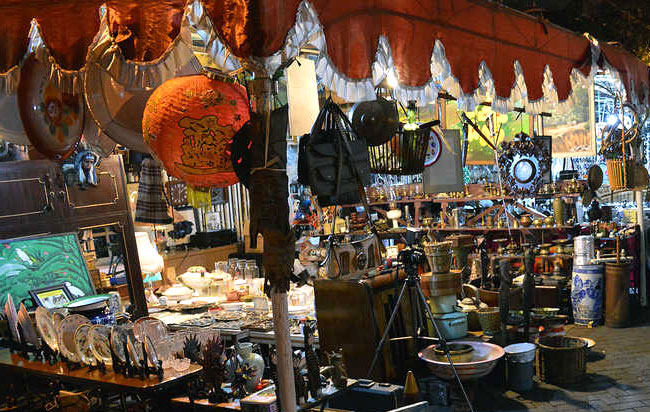 For those who have visited Semarang City may have heard a famous area called Kota Lama or the Old City. That site has an interesting Indonesia history and features lots of historical buildings as well, without a doubt. Still, other interesting places reside in that area including the one called Padangrani Market! Another name is Klitikan Market and it resides in Tanjung Mas Village of North Semarang Sub-District. In a nutshell, the market sells mainly arts products made by local artists. This explains why many people call it Pasar Seni or the Arts Market! The good news is the location is near to Srigunting Park and Blenduk Church. Thus, everyone is able to find it easily.
The Nuance
In terms of age, Padangrani Market is considered new. Thus, the number of visitors is not as many as other vacation spots located in Kota Lama. Despite the fact, it has a nice accessibility due to the fact that it resides exactly beside Srigunting Market. About 30 tents are available selling arts and antique products on that site. This is why many people call it Kampoeng Seni or the arts village. Here is important information. There is no fixed price, so everyone is able to bargain in order to get cheaper prices. After all, the sellers are friendly and approachable.
Exploring Padangrani Market
Usually, Padangrani Market becomes an alternative destination for those who are exploring Kota Lama. At first, tourists spend their time at Srigunting Park in order to enjoy relaxation. Soon, they may drop by in market either for sightseeing or buying some stuff. This kind of activity is quite soothing, somehow. Even tourists don't have to carry money in order to get such fun. After all, visitors are not obliged to buy items when exploring the market.
One thing, it would be a waste if tourists don't buy something while visiting Padangrani Market. Many beautiful arts and unique items are sold there, after all. Not to mention the price is negotiable, so everyone is able to bargain for cheaper prices. According to nearby locals, 38 vendors operate at the location and they are quite friendly to buyers. Some of them are able to speak English, in fact! Thus foreigners won't have any issues in approaching those people.
Even though Padangrani Market hasn't obtained an official permit from the local government, it remains active until now. The reason is the number of visitors and buyers keeps increasing over time. The good thing is the sellers give retribution to the local government regularly. For the information, the money is going to be used to maintain the site, especially in terms of cleanliness and comfort.
Nearby Attractions

Blenduk Church
Srigunting Park
Syachbandar Monument
Contemporary Art Gallery
How to Get There
From Ahmad Yani International Airport, a trip to Padangrani Market may spend only 15 minutes. It is because the distance is only 6.8 km. What they need to do is to head to Kota Lama Area at Tanjung Mas Village. They can take any available transportation service and head to North Semarang Sub-District directly. As for the best route, it is none other than Nasional 14 Street.
Where to Stay

Metro Hotel
Dafam Hotel
Aston Hotel
Gets Hotel