Ngrembel Asri Recreational Park in Semarang City, Central Java Province
---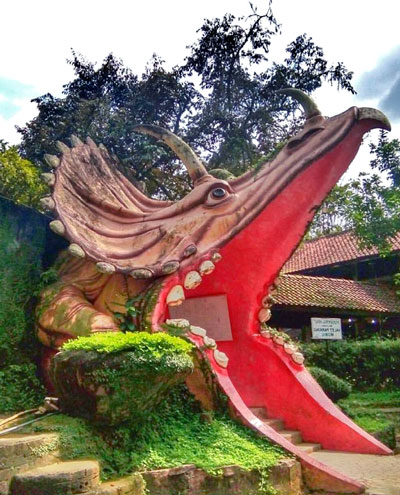 It seems Semarang City never runs out of recreational areas for tourists to visit during holidays. Another reference is called Ngrembel Asri and it resides in Gunungpati Sub-District. To be exact, it is located in Raya Manyaran Street. Due to the complete facility, the site has lured both locals and outsiders over time! Visitors can take advantage of all outbound facilities and spend a family recreation peacefully there. In fact, the nuance is good enough to enjoy relaxation and eradicate stresses in weekends. Thus, do not forget to come with family members to Ngrembel Asri (especially those who are visiting Semarang City later).
The Nuance
The good thing is Ngrembel Asri is surrounded by shady and big trees. This explains why the nuance feels so soothing and refreshing. Plus, it comes with many recreational facilities especially gazebos! Located near to the resting area, there is a man-made lake on where tourists can enjoy fishing! What about the size? According to the keeper, this recreational park has the total area of 3 hectares so it can accommodate many visitors at once. As for the fun facilities, tourists can find a dinosaur park, paintball field, a mini zoo, swimming pool, and many others.
Exploring Ngrembel Asri Recreational Park
Well, visitors can do many things in Ngrembel Asri Recreational Park. For example, they can enter the Dinosaur Garden on where many dinosaur statues are located. This spot is suitable to collect photos and take selfies in front of those statues, for sure. Parents can also teach their kids regarding the names of those dinosaurs while exploring the park. It is going to be both fun and educational!
What is next? For more fun activities, visitors should spend some money and use all available outbound facilities provided by the park. The most famous one is definitely the flying fox, which is suitable for both kids and adults. Tourists can even ride a horse and get around the garden comfortably! This requires more money, though. As an alternative, they should enjoy a group activity called paintball or target shooting. This one suits those who come with many friends or family members, actually. What is more? Do not forget to rent an ATV and get around the park, too. After that, everyone should try wall climbing!
For those who look for more casual activities, they can reach the orchid garden and spend a peaceful time there. Here is the good news. The park also comes with a fishing pond! Have no worries. Tourists can simply rent the fishing rod and enjoy fishing right away. What a complete place to spend a family recreation! Don't you agree?
Nearby Attractions

Malon Village
Goa Kreo
Jatirejo River Tubing
Jatiombo
How to Get There
The distance between Ahmad Yani International Airport and Ngrembel Asri Recreational Park is 13.4 km. That means tourists may spend about 28 minutes to get to the site. As for the best route, they must take only Abdulrahman Saleh and Raya Manyaran – Gunungpati Street. Actually, there is no need to hire a tour guide as the location is easy to find.
Where to Stay