Ronggowarsito Museum in Semarang City, Central Java Province
---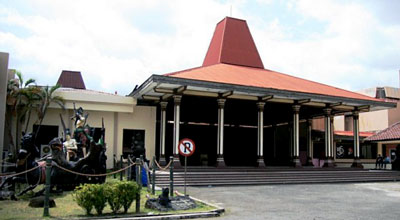 Having a great history makes Semarang City more interesting to visit, no? Moreover, tourists may find many recommended museums including the one called Ronggowarsito Museum. In fact, it is considered the most complete one! It is because the building stores various collections related to nature, history, culture, archeology, and much more! So, where is it? The location is in Kalibanteng Kidul Village and it belongs to West Semarang Sub-District. For the information, in terms of name, the local government was inspired by a famous national poet named Ranggawarsita. Also, it opens early every day in the morning and closes in the afternoon.
The Nuance
When it comes to nuance, it emits a comfy ambiance due to the presence of a beautiful park located in front of the museum. Located in the park, a unique statue resides which often becomes a background for photography. There are 4 prime buildings with two floors each. That means tourists can explore 8 rooms in total! In fact, according to the keeper, the museum stores more than 40,000 historical items! No wonder, visitors won't get bored once they get in the building. Moreover, the environment is both neat and clean!
Exploring Ronggowarsito Museum
For those visiting Ronggowarsito Museum, they should learn the history first. The idea occurred in 1975 and it was inaugurated by Fuad Hasan in 1989. This two-story building has lured lots of people since then. Despite the simplicity, the museum stores lots of historical items especially the Javanese arts like paintings, photos, keris, and much more. It looks like tourists need to spend some time to explore and see all those items. Have no worries. It is going to be a worthy effort.
Aside from exploration, people who come to Ronggowarsito Museum can also enjoy photography. Once arriving at the gate of the museum, tourists may see the unique architecture of the building that comes in Joglo style after all. Even such front appearance of the museum is worth a photo shoot. For more objects to capture, they should explore other parts of the museum including the park, laboratory, library, and storage. Have no worries. Everyone can access the museum comfortably as long as they get the permission from the keeper first.
While exploring Ronggowarsito Museum, tourists should not miss the chance to visit Gedung B. It is also called Sejarah Peradaban Kebudayaan Room. Inside, tourists can find lots of collections of various cultures including Buddha, Hindu, Islam, Kraton, and Europe. Even on the second floor of this room, they may see the collection of ancient items collected from the pre-historic era!
Nearby Attractions

Sunan Kuning's Tomb
Lele Park
How to Get There
For those coming from Ahmad Yani International Airport, they only need 5 minutes to get to Ronggowarsito Museum. The location is close to each other, after all. It is only 1.1 km apart! As for the best route, tourists can take Bandara Jendral Ahmad Yani Street.
Where to Stay

Topkapi Hotel
Airy Hotel
Sonic Hotel