Nyadran Tradition in Semarang City, Central Java Province
---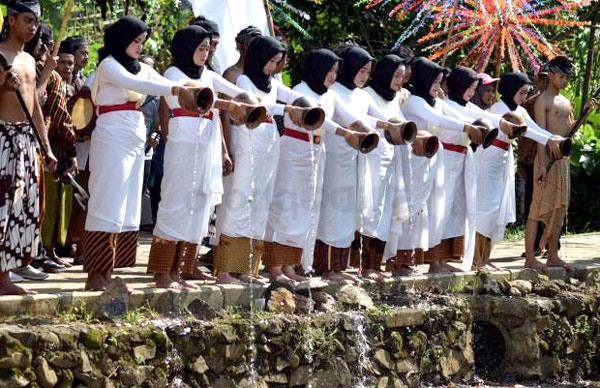 Semarang City consists of tons of tourist allures including natural attractions, historical sites, religious tourism, culinary, and much more? It even comes with many unique traditions like Nyadran Ritual. Usually, the locals conduct it right before Ramadan or within Ruwah month. In a nutshell, Nyadran is similar to pilgrimage. That means the locals visit the tomb of their families and pray there. Not to mention they would clean the tomb thoroughly. Later, they gather in one place and conduct eating together with others. The fact is many families join the ritual and they come from different villages too. Even tourists are allowed to join as long as they get the permission first.
The Nuance
Usually, Nyadran is done by people who belong to a certain village. Sometimes, though, it involves more than one village! No wonder, the nuance is considered both festive and serene. These people can wear any attire, as long as it looks appropriate and neat. There is no leader because those people have been familiar with the procession. That means the ritual would go smoothly as it has been done for generations.
More about Nyadran Tradition
Even though Nyadran belongs to the Muslim, everyone is allowed to join the procession. Outsiders and tourists are not an exception. As long as they follow the procedure, they are good to go. This explains why hiring a local guide is quite recommended. Another important consideration is the purpose of the tradition itself. As mentioned before, the locals visit their relatives' tomb and pray on the site. That means tourists or outsiders have nothing to do with it. What they can do is photography and learning more information regarding the procession.
Here is the tip. The most recommended place to witness or join Nyadran Tradition is in Pudak Payung Village. It is because the number of participants can be more than a hundred. Thus, tourists can enjoy a more festive nuance during the procession. After getting the exact schedule of the event, tourists are allowed to join villagers right away. For the information, Nyadran consists of several stages so tourists should find out first before joining in.
The first stage is called Kenduri. At this phase, the locals gather in one place and conduct a praying together. After that, they eat together comfortably. What is next? It is none other than cleaning the local tombs. This activity is called "Besik", actually. For tourists, they should listen to villagers well and obey any instructions given.
Nearby Attractions

Simpang Lima Square
Lawang Semu
Tugu Muda
Brown Canyon
Kasmaran Park
How to Get There
From Jakarta City, tourists should get an airplane at Soekarno – Hatta Airport and head to Ahmad Yani International Airport right away. It is definitely the faster method than a land trip. For the information, the flight may take about 1 hour and 5 minutes. Once arriving at the airport, they can visit nearby villages and watch the ritual there. As for the tip, it is better to hire a local guide who knows thorough information regarding Nyadran including the schedule and exact location it is done.
Where to Stay

City One Hotel
Griya Rambutan
Peterongan Residence
New Metro Hotel
Dafam Hotel
Ibis Hotel