Tirang Beach in Semarang City, Central Java Province
---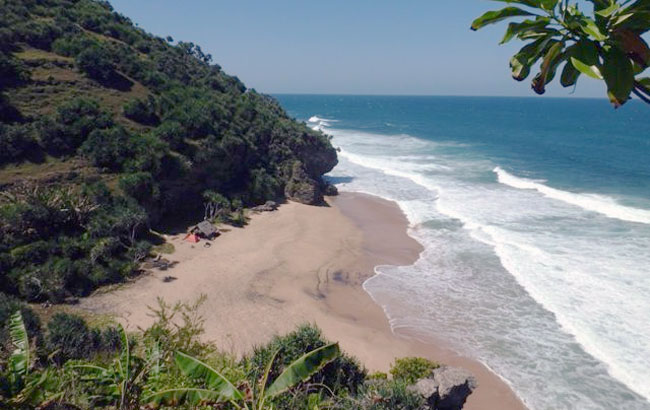 In Semarang City, several beaches reside in the north part of the region. For instance, there is Tirang Beach in Tugu Sub-District. The exact location is in Tugurejo Village and it resides near to two other famous beaches called Marina and Maron. Plus, the site is accessible especially for those who come from Ahmad Yani International Airport. What makes the beach attractive, though? According to the locals, most visitors come to the site to enjoy sea scenery and witness local fishermen's activity directly. Some people also visit the beach in order to enjoy fishing with their families.
The Nuance
As mentioned before, some people are interested in visiting Tirang Beach for its fishermen's activity. The site is quite strategic for fishing, after all. It resides beside Maron Beach, separated Silandak River's estuary. Once arriving at the location, tourists may find a sturdy pier on where they can fish and enjoy sightseeing. One thing, it becomes dangerous during the high tide as the waves might sweep the surface of the pier. What is more? According to the locals, there was a small isle called Tirang Island. However, it vanished due to the sea abrasion.
Exploring Tirang Beach
The first allure in Tirang Beach is the presence of mangroves that grove by the shore. The locals grow those plants in order to prevent sea abrasion, after all. Moreover, several people conduct a research on that spot regarding how to cultivate milkfish and maintain mangroves. The good thing is tourists are allowed to watch and join the activity freely. As for the tip, it is recommended to carry a camera to the site. No one wants to miss the chance to collect good photos during the visit, right?
The total area of Tirang Beach is approximately 240 hectares, so it is suitable for exploration and beach walking. In this case, tourists should wear comfortable footwear and come during a good weather only. Otherwise, they won't be able to enjoy those activities well. If they come in a good stamina, they can even reach the neighboring beach called Maron! The good news is the local government is going to build a bridge that connects those beaches. Thus, everyone is able to go back and forth easily in the near future.
What are other activities? Well, many people also come to Tirang Beach to enjoy fishing and swimming. Due to the big waves, only experienced and professional swimmers are allowed to get in water though. For others, they can simply sit on the pier and enjoy fishing there. After all, the beach has abundant types of fishes including Dokan, Sembilan, Rusah-Rusah, Kiper, Mujair, and Blanak.
Nearby Attractions

Mangrove Edupark
Maron Beach
Marina Beach
How to Get There
From Semarang City, a trip to Tirang Beach only takes 32 minutes as the distance is 13.4 km. It can even be faster if they take Jendral Sudirman Street! The first destination is Tugu Sub-District, actually. Next, they can directly head to Tugurejo Village where Tirang beach is located.
Where to Stay

Airy Hotel
Puri Garden Hotel
Front One Inn
Sonic Hotel