Tanjung Selor Grand Mosque in Bulungan Regency, North Kalimantan Province
---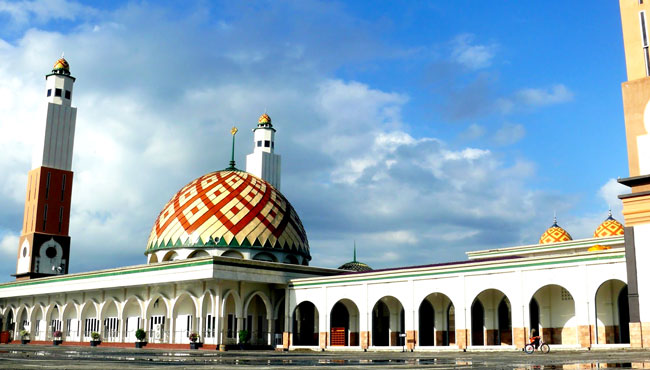 Tourists have a different reason for visiting Bulungan Regency. Most of them want to explore the culture, while others decide to visit some good natural attractions. What about other reasons? They are likely to visit some attractive local buildings including the famous Tanjung Selor Grand Mosque. Another name is Istiqomah Mosque and it resides in Skip I Street. To be exact, it belongs to Tanjung Selor Hilir Village. The mosque has an astonishing architecture and it offers a serene atmosphere for relaxation. That means tourists can rest for a while in that area before continuing their trip.
The Nuance
In terms of size, Istiqomah Mosque is definitely big. No wonder, it got the name Grand Mosque or Masjid Agung. Each corner of the mosque features a majestic tower while a big dome resides in the midst of the roof. The mosque also features some smaller domes up there. As for the nuance, it is peaceful and sacred. The next noticeable feature is a beautiful big calligraphy located on both sides of the pulpit. Outside the mosque, some small gardens reside beautifully! These add a refreshing nuance to the site, without a doubt.
Exploring Tanjung Selor Grand Mosque
Istiqomah Mosque is located in the downtown, so tourists can get there easily. What people need to do is to reach Kolonel Soetadji Street. For outsiders or tourists who want to explore the mosque, in this case, they must meet the takmir leader first. The purpose is to get permission from the keepers. This way, they won't disturb worshippers and are able to learn some rules before entering the mosque later. Tourists are going to explore a sacred place, after all.
Even though most tourists come to Tanjung Selor Grand Mosque for resting during a trip, all of them are likely to enjoy photography as well. This can be done both in exterior and interior of the mosque. As for the consideration, tourists must avoid visiting the mosque during praying times (especially if they want to enter the building). Photography can be done comfortably why the mosque is quiet, after all. As for the exterior, the 4 tall towers would be the best background or objects for sure. Don't forget to take selfies in front of the mosque, too.
Another thing that tourists can do when visiting Istiqomah Mosque is related to history. That means visitors must hear some stories related to the mosque. They can get the information either from the keepers or a local guide later. It is said villagers used to get to Kampung Arab Mosque in order to pray, which is about 3 km apart, before the presence of the grand mosque. Thanks to the local government. The construction began in 1993, actually.
Nearby Attractions

Tepian Kayan
Agatish Field
Cinta Damai Monument
How to Get There
Istiqomah Mosque is located in a strategic location, so tourists would be able to get there easily. But first, they should head to Tanjung Selor City regardless of where they come from. From Jakarta City, in this case, a flight to Tanjung Harapan Airport may take around 1 day and 11 hours. After arriving at the airport, they should take Ahmad Yani Street and head to Bulungan Regency. The distance is 93.1 km, so the trip takes approximately 2 hours. From Bulungan, the last destination is Tanjung Selor Hilir Village where the mosque resides. Have no worries. The distance is only 1.5 km, so the trip would take about 5 minutes. As for the best route, it is Kolonel Sutadji and Skip II Street.
Where to Stay

Crown Hotel
Anugrah Hotel
Teduran Mas Hotel