Crown Watersport Km 16 in Bulungan Regency, North Kalimantan Province
---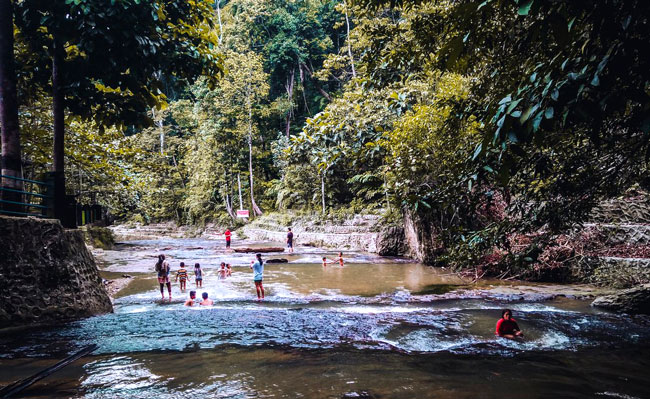 Spending a memorable and quality family recreation doesn't have to be expensive. It is because tourists can simply visit natural attractions like Crown Watersport Km 16, which is located in Bulungan Regency. This is suitable for both nearby villagers and outsiders! The exact location is in Jelarai Selor Village, actually. Instead of featuring man-made water rides and facilities, this site offers a pristine environment, refreshing river, and soothing ambiance. Tourists can enjoy some activities like playing water, swimming, relaxation, photography, and recreation! The site is accommodated by the famous Km 16 River, after all.
The Nuance
As compared to sophisticated man-made waterparks, Crown Watersport Km 16 is indeed inferior as tourists won't find any water rides in that area. However, it offers a superb nuance due to the serenity and pristine nature. The river is surrounded by tall trees and grassy landscapes that soothe all visitors. The depth is shallow and the current is small. No wonder, even kids can enjoy swimming and playing water safely. The location is in a hilly area, so it features an uplifting air as well. Not to mention the water is quite clear and refreshing.
Exploring Crown Watersport Km 16
Crown Watersport Km 16 is located in a serene spot, so it is suitable for relaxation. That means tourists don't have to get in the water during the visit. They can simply choose a good spot for sitting and enjoy the nuance. The best choice is either under a shady tree or a river stone. Those who carry a mat are allowed to roll it out on a higher ground up the hill, in fact! The view is definitely better up there.
Aside from relaxation and sightseeing, the best thing to do in Crown Watersport Km 16 is definitely swimming or playing water. It is a known fact that tourists would get wet later, so they must carry extra clothes to the site. The fresh water of the river comes from a nearby hilly area, actually. It feels refreshing and looks so clear. In the morning, though, the water becomes too cold. Thus, tourists should visit it in the later morning or at noon.
For the information, tourists should pay a ticket fee in order to enter the area. The local government has put some efforts in maintaining and taking a good care of the environment, after all. That's why tourists won't find any single trash there. What is more? The management even provides a nice restaurant located on the river bank!
Nearby Attractions

Hidayatullah Mosque
Selor River
How to Get There
Tourists who come outside Kalimantan Island should take an airplane to reach Tanjung Harapan Airport at Tanjung Selor City. From Jakarta City (Soekarno – Hatta International Airport), the flight takes about 1 day and 11 hours. After tourists arrive at the airport, they can take Ahmad Yani Street and head to Bulungan Regency right away. This trip would take around 2 hours and 9 minutes, as the distance is 93.1 km. From Bulungan, their next destination is Jelarai Selor where the river resides. The distance is 22.6 km, so the trip may take about 30 minutes.
Where to Stay