Selimau Park in Bulungan Regency, North Kalimantan Province
---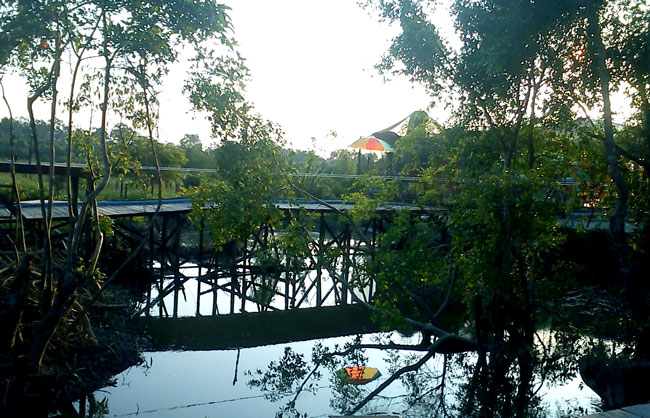 What are recommended vacation spots that tourists can explore in Bulungan Regency? The option varies. One of the best destinations is Selimau Park, which is located in Tanjung Selor Timur. It is considered a cheap and perfect area to spend a family recreation, especially during weekends and holidays. No wonder, most visitors are local families who come with their kids. This man-made vacation spot provides numerous fun rides and facilities to visitors. Also, it offers a soothing nuance in the afternoon, which is suitable for relaxation. Another great thing is related to the location, which is quite near to the downtown.
The Nuance
It is true Selimau Park is a new vacation spot. That means the condition is perfect and the environment is clean. When it comes to nuance, it is definitely rousing. Thanks to a high number of visitors. What about the facilities? The park features kids' swimming pool and other facilities like duck boats, swings, mini train, garden, fountain, and much more! Some animal statues also reside in a specific part of the park, too, which is suitable for photography. Not to mention it features several gazebos and resting area where tourists can relax while enjoying foods or snacks.
Exploring Selimau Park
Due to the popularity, Selimau Park is always crowded even in the late afternoon. Thanks to the strategic location and various facilities. For those who love challenges, they can take advantage of an outbound facility like flying fox. Even kids are allowed to enjoy the activity, as long as they get their parents' supervision. As a more casual tourist activity, visitors can simply visit a mini zoo and conduct sightseeing in that area. Don't forget to take some photos as well!
The next recommended thing to do in Selimau Park is to rent a duck boat and explore the pool comfortably either with a family member or friend. Have no worries. The fee is cheap, so everyone can afford it. What is next? The park also features swings and other fun facilities, including Wahana Bola and mini train. Once again, it costs some money to use those rides. Parents must prepare some cash before coming to the park with their kids later, therefore.
The next impressive feature is the presence of tens of gazebos where visitors can relax and eat some foods. They can either bring snacks or buy some on the site, actually. Eating together with families or friends while enjoying merry nuance is indeed satisfying, no? Another feature is the musical area where tourists can simply listen to music or sing together!
Nearby Attractions

Datu Laksamana Mosque
Nur Hidayah Mosque
How to Get There
Selimau Park is located in Bulungan Regency. But first, tourists should head to Tanjung Harapan Airport at Tanjung Selor City first. This can be done fast by airplane, for sure. From Jakarta City (Soekarno – Hatta International Airport, the flight may take about 1 day and 11 hours. Later, once arriving at Tanjung Harapan, tourists should find a local transportation service and head to Bulungan City. This trip takes about 2 hours and 10 minutes, as the distance is 93.1 km. From Bulungan, they can head to Selimau Park right away by taking Selimau 3 Street. The trip may take approximately 29 minutes, so the distance is 12.6 km.
Where to Stay

Platinum Hotel
Nusantara Hotel
Teduran Mas Hotel