Batu Tumpuk in Bulungan Regency, North Kalimantan Province
---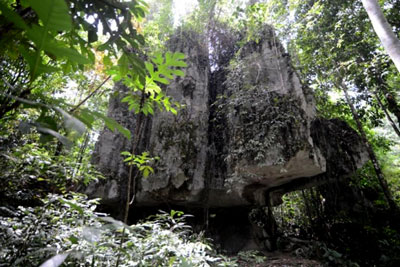 In Bulungan Regency, tourists can find several interesting natural attractions. Even though the choice is not as many as other regions, visitors won't regret it. Here is the reference. The name is Batu Tumpuk, which is located in North Tanjung Palas Sub-District. The exact location is in Panca Agung Village, actually. The good news is the site resides on the roadside, so the accessibility is excellent. In terms of name, "Batu" means stones while "Tumpuk" means stacked. As the name suggests, tourists may see beautiful and unique stacked rocks on the site. Those were formed naturally, in fact!
The Nuance
As mentioned before, Batu Tumpuk means piled or stacked rocks. The size is indeed big and it is worth located in the midst of a forest. Many tall trees and bushes surround that area, so tourists won't suffer the heat of the sun at all! As for the rocks, they have the height of around 50 – 100 meters. Some tree roots cover them in a beautiful manner, as well. Here is the thing. Tourists should pass through a challenging route in order to reach the site. Visitors even need to pass through a local palm plantation to get there.
Exploring Batu Tumpuk
The first benefit in visiting Batu Tumpuk is none other than the trekking experience. Tourists are able to enjoy a natural exploration either alone or with friends. They must consider the perfect time to conduct trekking though. It is important to visit the location during a good weather and all tourists must carry enough bottled water to avoid tiredness. Wearing comfy footwear is also recommended. Along the way to the site, they may see tall big trees and lush bushes as well.
According to the locals, the number of visitors is high! It is because these people come from numerous regions including the nearby villages, Tarakan, Bulungan, and even outside North Kalimantan Province! During holidays, it may reach up to 1000 visitors, in fact! No wonder, the nuance becomes merry at those times. Still, the forest offers a vast area for them to explore, so don't worry. Also, all people are allowed to take photos in that location freely!
Another benefit in visiting Batu Tumpuk is to learn the history. According to the locals, the site was founded by a homesteader in the early 1990s. In the past, it was in the form of a rocky hill. As time went by, those rocks were scattered near to each other. Some of them have a big hollow where tourists can pass through and conduct photography.
Nearby Attractions

Rajawali Theater
Al Irsyad Mosque
Telur Pecah Monument
How to Get There
The prime destination is Bulungan Regency. However, tourists must get to Tanjung Selor City first. They can get there fast by airplane, actually. For example, a flight from Soekarno – Hatta International Airport (Jakarta City) to Tanjung Harapan Airport may take around 1 day and 11 hours. Once arriving at the airport, tourists should take Ahmad Yani Street and head to Bulungan Regency right away. The distance is 93.1 km, so the trip takes approximately 2 hours and 9 minutes. From Bulungan, the next destination is Panca Agung Village at Tanjung Palas Utara Sub-District where Batu Tumpuk resides. This trip may take around 1 hour and 54 minutes, as the distance is 83.8 km.
Where to Stay