Tidung Pier in Bulungan Regency, North Kalimantan Province
---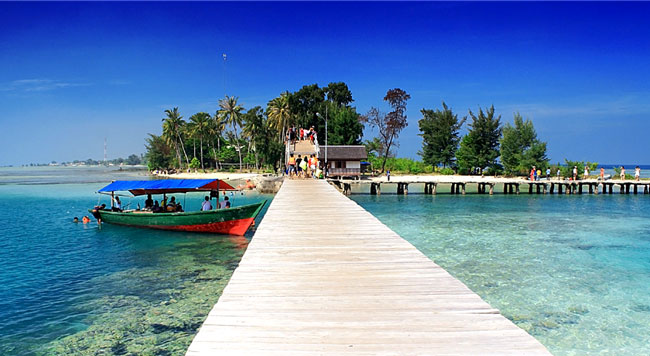 One of the best tourist allures in Bulungan Regency is none other than Bunyu Island. The prime reason for visiting the island is to enjoy the serenity. That means tourists are able to get away from their daily busy routines and find peace there. As for tourist attractions, visitors can find some interesting spots including Tidung Pier. The locals often call it Dermaga Cinta or Love Pier, actually. Visitors can enjoy some activities on the site, including watching the sunset, sightseeing, photography, fishing, and much more! They even have the chance to ride a boat and explore the sea comfortably.
The Nuance
Tidung Pier is a significant facility in Bulungan Regency, due to a high number of boat traffic. When it comes to the nuance, it is definitely crowded. Most visitors are boat passengers and villagers. Some tourists are also seen in that area, actually. The pier looks sturdy and well-maintained, so it is suitable for relaxation. As for the sea, it looks the best during the low tide. According to the locals, the site was once used as a helipad! There is no trace of it, though, these days.
Exploring Tidung Pier
Tourists have a distinct reason for visiting Tidung Pier. The most common motive is to watch the crowd, either passengers or boats. The pier becomes more crowded during weekends and holidays, in fact. This merry nuance gives a distinct satisfaction to tourists, actually. Those who look for a more peaceful nuance, though, they should visit the pier at special times, especially in the morning. The number of visitors is low and the atmosphere is fresher at the time.
What is next? Many tourists are interested to visit Tidung Pier for its sunset. They come during the dusk or in the afternoon in order to watch that beautiful sun view. Somehow, the nuance becomes romantic during sunset. This explains why many local couples often spend a good time at the pier. Also, this becomes the reason why the pier has another name, which is Dermaga Cinta or Love Pier.
Another recommended thing to do in Tidung Pier is fishing. Some big fishes often gather in some spots of the pier, so tourists can catch them easily. The only consideration is related to the equipment. Due to the absence of rental services, tourists must carry their fishing rod and other equipment to the site.
Nearby Attractions

Bunyu Mangrove
Goa Hira Mosque
How to Get There
Tidung Pier is located in Bunyu Island. However, tourists' first destination would be Tanjung Selor City. For those coming from Jakarta City, they can take advantage of an airplane service at Soekarno – Hatta International Airport and head to Tanjung Harapan Airport. This flight may take around 1 day and 11 hours, actually. Later, once arriving at the destination, tourists should take Ahmad Yani Street and head to Bulungan Regency. This trip takes about 2 hours and 9 minutes, as the distance is 93.1 km. At last, they should visit a local port and get a boat service to Bunyu Island.
Where to Stay

Nibung Lama Inn
Nibung Baru Inn
Alfu Inn
Harapanku Hotel