Birau Ceremony in Bulungan Regency, North Kalimantan Province
---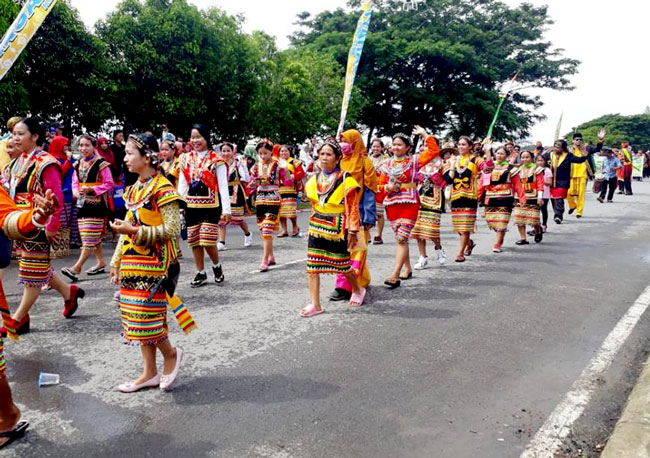 It is a known fact that Bulungan Regency has some interesting traditions for tourists to learn and watch during the visit. Still, when it comes to popularity, the best one is Birau Ceremony. This annual local event has become part of local society for generations. The good thing is tourists are allowed to join the ceremony and take photos freely. In terms of name, "Birau" derives from the local language, which means a big party. It is done by Bulungan's Sultan hereditary. The purpose varies, including a royal wedding, royal coronation, and much more!
The Nuance
Birau Ceremony indeed offers a merry nuance due to a high number of participants. Both locals and tourists gather in order to enjoy all processions, as well. According to villagers, the event takes place in Agatish Field (located near to Tanjung Harapan Airport). In the beginning, all participants conduct a flag ceremony in order to commemorate Tanjung Selor's anniversary. These people wear colorful traditional attire! Some of them also wear Muslim fashion, though. This merry nuance soothes tourists, so they have a great chance to take photos during the processions.
Exploring Birau Ceremony
Tourists should find the right schedule and place first if they want to join or witness Birau Ceremony. As for the location, it is in Agatish Field. Here is the tip. Tourists should hire a local guide in order to find further information regarding the ceremony, especially related to the processions. As mentioned before, the first stage is a flag ceremony. Soon, an interesting marching band performs and entertains the audience. These marching bands consist of local students, actually.
The next attractive procession is none other than Gerak Dance. This combines several traditional dances including Dayak, Tidung, and Bulungan Dance! No wonder, the performance looks both unique and beautiful. Here is the good news. All audience and tourists are allowed to dance together during the procession. This explains why the number of dancers may reach up to 200 people! This mass dance becomes an important part of Birau Ceremony, so tourists should not miss it.
Aside from joining and enjoy all processions, tourists have another benefit in joining Birau Ceremony. It is related to history. According to the locals, the ceremony has become the part of Bulungan Regency even since the reign of Ali Kahar (the 5th Bulungan Sultan). One of the best events was done in 1946, which lasted 40 days and nights!
Nearby Attractions

Gunung Putih
Keburau Mosque
Baiturrohman Mosque
How to Get There
In order to watch Birau Ceremony directly, tourists must visit Bulungan Regency indeed. Their first checkpoint is Tanjung Harapan Airport at Tanjung Selor City. For those coming from Soekarno – Hatta International Airport (Jakarta City), a flight to the destination takes about 1 day and 11 hours. Once tourists arrive at the destination, they must take Ahmad Yani Street and head to Bulungan Regency right away. This trip takes around 2 hours and 15 minutes, as the distance is 93.1 km. It can be faster if the traffic is low and tourists take the best transportation service, though.
Where to Stay

Bahagia Hotel
Pelangi Indah Hotel
Lamin Hotel