Mangrove Forest in Bulungan Regency, North Kalimantan Province
---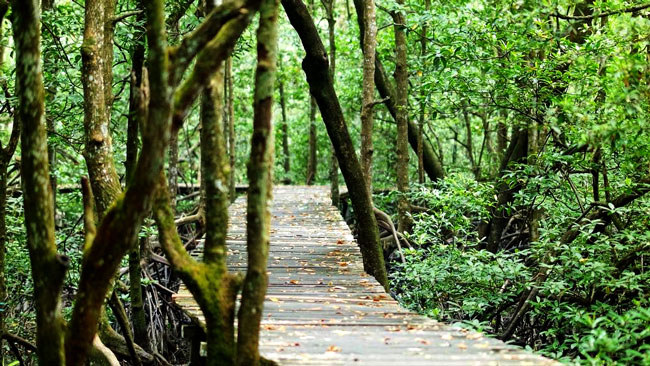 When spending a vacation in Bulungan Regency, tourists must not forget visiting a beautiful island called Bunyu. Perhaps, it is the most famous vacation destination in that region! One of the reasons is tourists may find a lush mangrove forest or conservation. That means visitors can enjoy an exploration, photography, and meet Bekantan (proboscis monkeys). Aside from that, some tourists take advantage of the nuance for relaxation and finding peace. Somehow, they are able to relieve stresses by exploring the mangrove site. Thus, don't forget to drop by later while visiting Bunyu Island. Here is further information.
The Nuance
Once arriving at Bunyu Mangrove Forest, tourists may see lush mangrove trees right away. The atmosphere varies depending on the time of the visit, though. It would be dry and hot if tourists come at noon. However, it feels soothing either in the morning or afternoon. What is more? The next best feature is the presence of proboscis monkey who live in that area. The locals call them Bekantan. Also, many tourists are seen on the site with their tour guide. Most of them visit the location during weekends and holidays, actually. Aside from these times, the nuance becomes more peaceful.
Exploring Mangrove Forest
The most common reason why tourists visit Bunyu Mangrove Forest is to learn the function. In this case, they can simply ask villagers who live in that area or a local guide. It is said the presence of those mangrove trees on the shoreline is able to prevent damages caused by sea abrasion. The next function is to retain the local fish and other sea creatures' population. This way, parents are able to educate their kids regarding these important benefits during the visit.
As for tourist activities, the most common thing to do in Bunyu Mangrove Forest is sightseeing as well as photography. Tourists would explore the site and take some photos! The good thing is this activity can be done freely! Thus, everyone should bring a camera when visiting the site later. For an efficient exploration, it is also recommended to hire a local guide who knows the route well. The size of the mangrove conservation is considered vast, after all.
Another reason for visiting Bunyu Mangrove Conservation is to witness exotic animals like Bekantan and local birds. According to the locals, tourists may find around 29 species of birds in that area! It can be even more as the time goes by. Thus, tourists should explore the site thoroughly to meet more beautiful birds later.
Nearby Attractions

Tidung Pier
Goa Hira Mosque
How to Get There
In order to explore Bunyu's mangrove forest, tourists indeed must head to the island. Before that, they should pass through several checkpoints! From Jakarta City, it takes a flight from Soekarno – Hatta International Airport to Tanjung Harapan Airport at Tanjung Selor City. The duration is 1 day and 11 hours. Next, they should head to Bulungan Regency by taking Ahmad Yani Street. The distance is 93.1 km, so the trip may take around 2 hours and 9 minutes. After that, their next destination is a local port for a boat service. The prime destination is indeed Bunyu Island where the mangrove forest resides.
Where to Stay

Harapanku Hotel
Nibung Lama Inn
Nibung Baru Inn
Alfu Inn