Pura Agung Jagat Benuanta in Bulungan Regency, North Kalimantan Province
---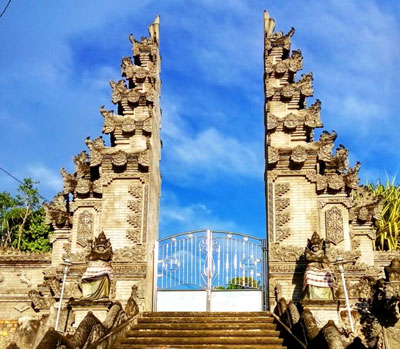 Not all tourists are familiar with North Kalimantan Province, especially related to tourism. That doesn't mean the region feels boring to tourists! It is because visitors can enjoy a satisfying vacation experience when visiting a nice region like Bulungan Regency. It is the home of a famous temple called Jagat Benuanta, actually. The locals call it Pura Agung Jagat Benuanta and it is located in Tanjung Selor Hilir Village. Tourists can simply reach Agatish Street where the temple resides. This Hindu Temple becomes a nice place to learn history, photography, and sightseeing.
The Nuance
Jagat Benuanta is a Hindu Temple. No wonder, it features ornaments and carvings that relate to Hinduism. In terms of size, it is moderate but features a vast garden where tourists can relax and sightsee. When it comes to nuance, it feels soothing and comfortable! Thanks to the presence of numerous types of trees and plants. Some flowers also beautify that area. What about the structure? Well, the temple features two majestic dragon statues on both sides and a big monument-like in midst of it. Overall, it is worth a photo shoot!
Exploring Pura Agung Jagat Benuanta
Some people perhaps wonder what they can do once arriving at Jagat Benuanta Temple. Well, the most common thing to do is to learn the history. According to the locals, the construction began in 2000 and it was done gradually. In late 2008, the temple got its inauguration and has become both a place for worshipping and a new vacation spot in Bulungan Regency. The only problem is the number of Hindu people is small in that region. Thus, the temple looks quieter, as compared to others.
As for tourists, Jagat Benuanta Temple becomes a good place to find peace during a vacation. At least, visitors can take advantage of the nuance for relaxation and sightseeing. Plus, they can take some good photos on the site. After getting the permission, they are allowed to explore the temple and take selfies in that area. The best time to visit, somehow, is during a special procession or religious event. It is because the ambiance becomes merrier and many ornaments are seen on the site especially Janur Kuning. Don't forget to collect photos too, later.
The fact is Jagat Benuanta becomes the only Hindu Temple in Bulungan Regency. The total area is 1.5 hectares and it resides on a hill. No wonder, the atmosphere feels fresh and relaxing! Not to mention the number of worshippers is low. Perhaps, the number of visitors is bigger than it, especially during a special event.
Nearby Attractions

Bunda Hayati
Wildlife Hornbill
Agatish Field
How to Get There
Tourists can easily get to Pura Agung Jagat Benuanta if they know the route. For those coming from Jakarta City, in this case, their first destination is Tanjung Selor City and this should be done by airplane. For the information, a flight from Soekarno – Hatta International Airport to Tanjung Harapan City may take around 1 day and 11 hours. From Tanjung Selor, the next destination is Bulungan Regency. The distance is 93.1 km, so the trip may take around 2 hours and 9 minutes. Also, the best route to take is Ahmad Yani Street. From Bulungan, tourists can simply take Agatish Street and reach the temple right away. Have no worries. This trip may take around 5 minutes, as the distance is only 1 km.
Where to Stay

Platinum Hotel
Teduran Mas Hotel
Nusantara Hotel
Anugrah Hotel