Air Hutan Gunung Seriang in Bulungan Regency, North Kalimantan Province
---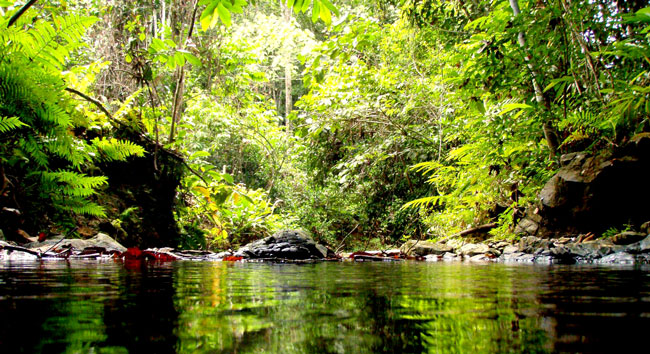 A forest is not all about lush trees and wild creatures. It is because tourists may find other natural allures, too, including a peaceful river. In Bulungan Regency, for example, tourists may find Air Hutan Gunung Seriang. "Air Hutan" means forest water, actually. The location is in Gunung Seriang Village and it belongs to Tanjung Selor Sub-District. Only several outsiders or tourists know exactly where the river is located, though. That means visitors should find a local guide first before heading to the location. The motives vary. These include taking a bath in the river, enjoying serene nuance, relaxation, and photography.
The Nuance
Unlike other rivers in Tanjung Selor, Air Hutan Gunung Seriang has clear and refreshing water instead of brown water. One thing, the size is small and the flow is weak too. The location is considered secluded, though, so tourists must conduct a short trekking and exploration in order to reach the site. They can park their vehicle at the gate and walk passing through weeds and bushes later. Have no worries. Shady trees make this trip comfortable. Once arriving at the location, the fresh water and beautiful landscape replenish tourists' tiredness right away.
Exploring Air Hutan Gunung Seriang
People have many reasons for visiting Air Hutan Gunung Seriang. For example, they want to relax and get rid of stresses due to daily routines. The breezy wind and sound of gurgling water soothe visitors' mind! Not to mention the nuance is peaceful due to a secluded location and presence of lush plants as well as trees. Moreover, the number of visitors is low, so tourists can take advantage of such a serene atmosphere to their heart's content.
Trekking becomes the next common reason to visit Air Hutan Gunung Seriang. It won't take much time to reach the river, though. From the gate, tourists only need to walk for about 4 meters. Despite the fact, they need to pass through shrubs and bushes. Thus, it is recommended to wear comfy footwear when heading to the river. Here is the tip. Everyone should reach a further site where better spots reside. The distance is approximately 100 meters from the gate, actually.
Once arriving at the river, tourists are allowed to play water and get in it directly! The refreshing water and peaceful ambiance become a perfect combination, no? Sometimes, lots of beautiful butterflies gather in that area and they often perch on river stones. Thus, tourists must take photos of them when they have the opportunity.
Nearby Attractions

Crown Water Sport
Hidayatullah Mosque
How to Get There
Tourists must prepare both money and stamina to visit Air Hutan Gunung Seriang. For those coming from Jakarta City, for instance, they must take the right airplane and head to Tanjung Selor City (Tanjung Harapan Airport). This flight takes much time indeed, which is around 1 day and 11 hours. Once getting to the destination, tourists must find a reliable local transportation service and head to Bulungan City. This trip may take about 2 hours and 10 minutes, as the distance is 93.1 km. This can be done faster by taking Ahmad Yani Street, though. From Bulungan, the last destination is Gunung Seriang Village where the tourist site resides. This may take around 3 hours or more depending on the traffic.