Telur Pecah Monument in Bulungan Regency, North Kalimantan Province
---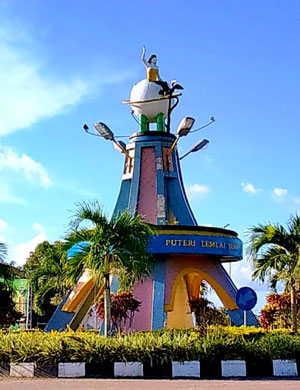 It takes some time in order to explore all parts of Bulungan Regency. Tourists' favorite spot would be the downtown! It is because they can find simple vacation spots like Telur Pecah Monument, either for photography or relaxation. The location is at Sengkawit Street and it belongs to Tanjung Selor Hilir Village. In terms of name, "Telur Pecah" means broken eggs. A history and legend relate to the monument, so visitors can get information from the locals as well during the visit later. Thus, everyone should not forget to drop by in the monument while exploring Bulungan during holidays.
The Nuance
Telur Pecah Monument is located on a traffic roundabout, so it is quite noticeable for everyone. When it comes to the nuance, it depends on the time of the visit. During a high traffic, the nuance is definitely crowded due to passing vehicles. Thus, tourists should visit it during a low traffic for a more peaceful atmosphere. The size is moderate and the monument has a unique shape. On top of it, a big round statue resides where a woman statue is located. The woman waves one of her hands as the pose. In front of her, a bird statue resides.
Exploring Telur Pecah Monument
Telur Pecah Monument is located in a strategic area, so it is quite noticeable. Also, it is likely tourists would drop by for a while before continuing their trip. The question is what tourists can do in that area. Usually, people visit the monument to take some photos of it. They can simply take photos of the monument and take selfies in front of it. The unique shape of the monument is worth a photo shot, after all. The presence of small trees and bushes in that area makes photography more comfortable.
The next reason why Telur Pecah Monument popular is related to a local legend. In order to get the information, tourists can talk to their local guide or villagers later. It is said a man found a mysterious egg in the forest. After bringing it home, the egg hatched and a female and male baby came out from it. Their names were Jauwiru and Lemlai Suri. This legend became an inspiration to build the monument, after all.
Those who visit Telur Pecah Monument should consider several things before getting there. For instance, it is related to traffic. The monument resides in a roundabout, so many vehicles pass by. In order to avoid discomfort, it is better to visit it early in the morning when the traffic is low. Plus, it is recommended to carry a camera or smartphone to enjoy photography.
Nearby Attractions

Cendrawasih Park
Bunda Hayati Forest
PKK Monument
How to Get There
The good news is Telur Pecah Monument is located near to a local airport, so tourists may notice it easily. For those who come from outside Kalimantan Island, in this case, they must use a reliable airplane service and head to Tanjung Selor City. From Jakarta City (Soekarno – Hatta International Airport), the flight may take around 1 day and 11 hours. After they arrive at the airport, the next destination is none other than the monument. The best route to take is Agatish and Serindit Street. This trip takes only 6 minutes, as the distance is 2.8 km.
Where to Stay

Platinum Hotel
Nusantara Hotel