Jugut Demaring Dance in Bulungan Regency, North Kalimantan Province
---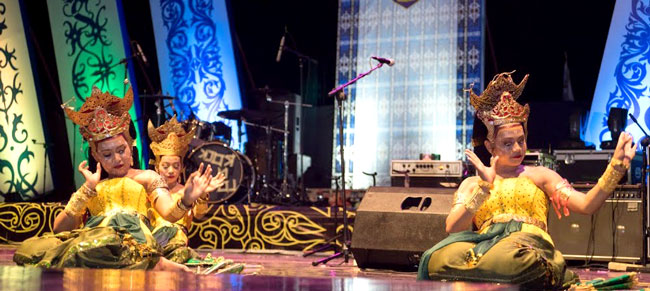 Bulungan Regency becomes another recommended vacation destination in North Kalimantan Province, especially for those who love culture and local traditions. It is the home of traditional dances like Jugut Demaring, after all. The locals often conduct this classic dance both during traditional and formal events. It has a similar popularity and attractiveness as Jugut Paman Dance actually. In terms of function, the dance is meant to welcome important guests. Unlike Jugut Paman (which is performed in the palace), this one is done outdoor, so tourists are allowed to watch or join the event!
The Nuance
Jugut Demaring Dance is considered populist. No wonder, the nuance is merrier than Jugut Paman Dance due to the presence of both villagers and tourists. This dance is conducted outside the building and the audience can freely watch it. For the information, only female dancers are allowed to perform it. They wear traditional attire and some ornaments including headgear, earrings, shawls, etc. Not to mention these girls carry a small cup-like object on their left hand. As for the accompaniment, it involves traditional musical instruments like viola and Gong. Also, the dance involves a verse sung by a local singer.
Exploring Jugut Demaring Dance
The prime allure of Jugut Demaring Dance is definitely its graceful moves. The combination of beautiful movements and lovely accompaniment would hypnotize all audiences, for sure. Aside from enjoying the performance, tourists are able to learn the meaning and history of the dance as well later. As mentioned before, the function is to welcome Sultan's important guests. The locals also perform it when escorting a groom to his bride. The good news is tourists are allowed to watch and join both events freely!
The next allure is related to the attire, which looks both beautiful and unique. Female dancers wear yellow traditional attire, shawl, and green fan. On their sleeves, beautiful accessories reside like Tangkop Udeng and Tangkong. On their hands, there is Geleng Randy. As for the headgear, they wear Jamong in the front part of the head and Tandu Gelung in the back of the head (especially for those having long hair). Not to mention they wear a makeup.
Everyone should have some considerations before heading to Bulungan Regency for Jugut Demaring Dance. The most important aspect is related to the schedule. It is because the dance doesn't occur every day, so tourists must come at the right time and find the right location where it is held. The best solution is to talk to a tour agency or local guide before heading to Bulungan!
Nearby Attractions

Km 12 Mosque
Crown Water Sport
T. Kuning
How to Get There
Tourists should get to Tanjung Selor City first before heading to Bulungan Regency for Jugut Demaring Dance. For those coming from Jakarta City, in this case, they can take an airplane from Soekarno – Hatta International Airport and head to Tanjung Harapan Airport right away. This flight takes approximately 1 day and 11 hours, so it is going to be long and tiring. Once arriving at the airport, they can take Ahmad Yani Street and head to Bulungan City. It is better to find information regarding the place and time where the dance is conducted first, though.
Where to Stay