Long Beluah Village at Bulungan Regency, North Kalimantan Province
---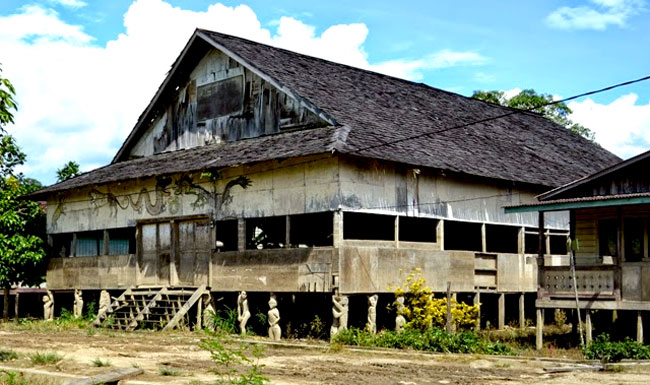 For those visiting Bulungan Regency, they are likely to find some good places to explore. One of the best places is called Long Beluah Village! It is located in West Tanjung Palas Sub-District and offers several attractions to visitors. These include a modest rural life, beautiful Dayak Tribe girls, the longest church in North Kalimantan Province, and rafting. This complete attraction definitely satisfies everyone regardless of the purpose of the visit. The only consideration is related to supplies like bottled water and snacks. It is because tourists won't find lots of eateries and facilities in that area.
The Nuance
When it comes to nuance, Long Beluah Village looks peaceful and secluded. It is because the locals live in a traditional way. Despite the fact, they have used motorcycles and use some electronics in their house. The road is accessible even though it doesn't come with a perfect condition. The good thing is both trees and plants grow abundantly in that area. Even the village features a famous church called Kemah Injil, which is considered the longest in Kaltara Province. What about the locals? They belong to Dayak Tribe and often perform a traditional dance, too. Not to mention they are friendly to tourists.
Exploring Long Beluah Village
Once arriving at Long Beluah Village, tourists may see a modest gate and some houses. As mentioned before, the road doesn't come with good condition. That means tourists must be careful when exploring the village later. They can directly visit a local house and rest for a while. As an alternative, they are allowed to get around the village and reach some good spots for resting. Usually, tourists may reach nearby shady trees and roll a mat under them. The shady spot is perfect for resting and peaceful nuance of the village helps them to relax!
The next recommended thing to do is to approach villagers and learn some information from them regarding the village, including the traditions, local foods, performances, history, and much more. In some cases, tourists need the help of a tour guide who can talk to the locals easily (especially for outsiders or foreigners). Both togetherness and peaceful traits of villagers would impress all visitors!
What is more? Another recommended thing to do is to reach the famous Kemah Injil Church, which is considered the longest church in North Kalimantan Province. The location is near to a river bank and tourists should walk for a while in order to reach the site. As for the tip, it is recommended to wear either a cap or umbrella while heading there. The heat of the sun can be quite uncomfortable sometimes.
Nearby Attractions

Keburau Mosque
Keburau Rafting
How to Get There
In order to reach Long Beluah Village, tourists must head to Bulungan Regency. However, their first checkpoint would be Tanjung Selor City and they can get there by airplane. For the information, a flight from Soekarno – Hatta International Airport (Jakarta City) to Tanjung Harapan Airport would take around 1 day and 11 hours. Later, after arriving at the destination, tourists must find a local transportation service and head to Bulungan Regency. This trip would take around 2 hours and 9 minutes. The distance is 93.1 km, after all. Lastly, they can simply head to the village by another transportation service, which may take about 3 hours.