Lampuuk Beach
---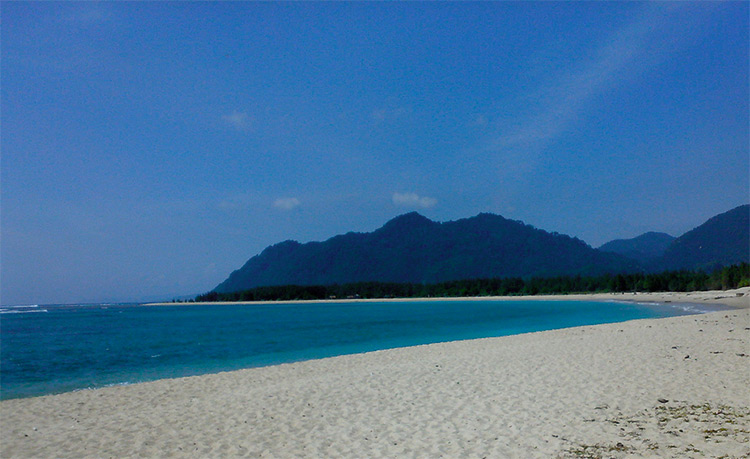 No need to be jealous for Bali for having many beautiful beaches, while in Aceh because there are also beaches with stunning scenery. One of those is Lampuuk Beach. This beach is also known as Kuta Beach in Aceh.
Lampuuk beach has a coastline for 5 km from south to north with soft white sand and cliffs at the end of the beach. There are any activities you can do at this beach like surfing, sunbathing, swimming or playing banana boat. One more exciting activities you can do at this tourism site is seeing turtle conservation. You can also participate to release the hatchlings into the sea. Holiday will never be the same like this.
During your visit, you can stay in cottages in the beach area to pamper yourself with the scenery of this beach; you can also satisfy your craving with a variety of grilled fish in the stalls around the coast.
Lampuuk beach is located in the village of meunasah Masjid, Lhoknga, Aceh Besar. The admission price is  Rp. 3,000. To reach this beach, there are four routes that can be choose: Babah One, Babah Two , Babah Three, and Babah Four. Each entrance named sequentially in the position, from the southernmost to the northernmost.  Most local visitors take Babah One and Babah Two. Foreign tourists usually come from Babah Three lanes. This location is normally used for surfing or simply for summer vacation.

Latest News
Tsunami Museum Located at Jalan Iskandar Muda, Banda Aceh, the museum is open every day (except Friday) at 10:00 to 12:00 and 15:00 to 17:00. The style of this building is quite unique, it has stage house style or Rumah … Continue reading →
---
---
---
---