Dutch and Japanese Fortress
---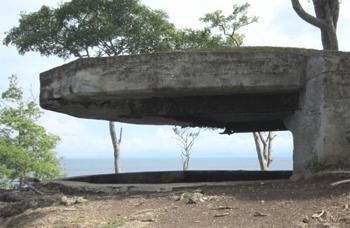 This former Dutch and Japanese fortress during World War II is located on the hill above the town of Sabang which has become historical evidence from the past. From the top of the castle, we can enjoy the beautiful panorama of the town of Sabang.
During the war, the fort was used as a shelter for the Dutch and Japanese forces. There were many Dutch and Japanese fortress scattered throughout Weh island and this is the reason why this island is popular as the "City of Thousand Fortress". All those castles were all built between 1942 and 1945 that were once connected by tunnels; which are now being closed for security reasons.
During the World War II Sabang city was the most important port city in comparing to Temasek (now Singapore). Sabang is widely regarded as a natural harbor called Kolen Station by the Dutch colonial government since 1881. In 1887, the Firm Delange that assisted by Sabang Haven obtain the authority to add and to build the port facilities and supporting infrastructure. The Sabang free port era began in 1895, which was known as Vrij Haven and managed by Maatschaappij Zeehaven en Kolen Station hereinafter known as Sabang Maatschaappij.
The World War II did influence the conditions of Sabang in 1942, where the area were occupied by Japanese troops, and then bombed by Allied aircraft and suffered physical damage until later forced to be closed.

Latest News
Tsunami Museum Located at Jalan Iskandar Muda, Banda Aceh, the museum is open every day (except Friday) at 10:00 to 12:00 and 15:00 to 17:00. The style of this building is quite unique, it has stage house style or Rumah … Continue reading →
---
---
---
---