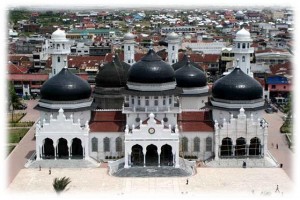 The Great Mosque Of Baiturrahman

What do you get about Nangroe Aceh Darussalam instead of the Tsunami tragedy 2004?
Yes, that mosque. Baiturrahman great mosque. Settled on the heart of Banda Aceh city, Aceh province, North Sumatra, Indonesia, Baiturrahman great mosque have witnessed the time remaining of Aceh in the past to present time.
As the time goes by, Baiturrahman great mosque has already become an icon for Aceh. Has been born to witness the historical time line from Sultanate era, Dutch colonialism, The Indonesian Uprising, Military Operation area until tsunami. This old pal have cried for these tragedies and laugh for each victories.
After the last scene that this mosque has been played after the tsunami tragedy, this magnificent holy resident has already reborn for the umpteenth time. The former damage has been gone and like an old lady, she is once again, now look gorgeous.
Since this mosque have been born from sultanate era, there was two versions of its founding saga; some said that Sultan Alauddin Shah Johan Mahmud was build this mosque in 13th century, while other said that Baiturahman founded in 17th century, by Sultan Iskandar Muda.
There was no one can mention perfectly about the founding saga, but some people believe that name of Baiturrahman was given by Sultan Iskandar Muda. At that time this mosque has become one of the central area of the Islamic development of Aceh Kingdom.
Architecturally, Baiturrahman nowadays is not as the same as the early it begins in Sultanate era. Formerly, Baiturrahman was develop like an ancient Javanese mosque. A wooden construction with rectangular roof and terraced.
Mentioned that formerly Baiturrahman only had one dome, and it was burned on 1873. The first re-build was on 1879 designed by a Dutch architect of Italian descent, De Brun. The rebuilding of this mosque with a dome, completed in two years.
During Y. Jongejans era, this mosque once again had its expansion with two domes added.
At 1957, at Soekarno's reign this mosque was again changed. The two new domes was built at the rear. there was also two towers built with a total pile reaches 280 units.
Within 1992-1995 the mosque again restored and expanded to have seven domes and five tower. Once restored, the mosque can accommodate up to 10.000-13.000 pilgrims. The page also expanded up to 3.3 hectares.
Every story has its scenes and climax and Baiturrahman was sitting in front the stages to watch the perform of life.
Written by http://www.indonesia-tourism.com/aceh/index.html