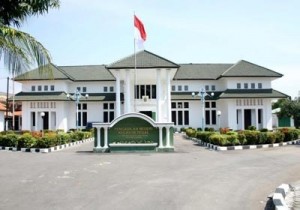 Tegal
Tegal is one of 35 regencies and towns in Central Java province. The capital is Slawi, which is located in 14 Km aside from Tegal city. This regency is bounded with Java ocean and Tegal city in north, Pemalang regency in east, Brebes regency and Banyumas regency in south and Brebes and Tegal regency in west.
Tegal regency is one of the busiest districts in Central Java. Especially around the town of Tegal or along the highway of Tegal-Slawi. In everyday life Tegal people are using Java Banyumasan Language with Dialects Tegal.
In Tegal regency there are lot of household industries, including: casting and metal working, textile (convection and traditional weaving), shuttle Chock, furniture, and pottery (tableware). In addition, Tegal people also have business on the agricultural sector (rice, pulses, onion, chili, and sugar cane). In the marine and fisheries sector, there are lot of Tegal fishermen looking for fish to the South China Sea (Riau Islands). As a result, they sell their catch to the fishing port (fish auction) in Jakarta, Cirebon, Pekalongan and Tegal.
The city of Tegal is an embodiment from a small village called "Tetegual". The modernization of the village began in the early 1530s, when eventually it became the part of Pemalang Regency area who admitted the existence of Pajang Empire in Central Java. Pajang Empire was the successor of the Sultanate of Demak, established by its descendant.
The city was built by Ki Gede Sebayu. Together with the locals, he inspired to increase the region's agricultural sector due to its soil fertility. Because of his endeavor to develop the region and to spread the faith, soon he became the high leader and the symbol of the city. His coronation as a leader was held together with a traditional festival after having a big agricultural harvest.
Although Tegal is not recognized as a center of Javanese culture, but the arts are rapidly developed. Various cultural were held by presenting national and local culture. The original art from Tegal is a Endel dance and balo-balo.
There are some interesting places that worth to be visited in Tegal, like:
* Gunung Guci, natural sulfur waterfalls for healing many skin diseases
* Pantai Alam Indah (PAI), famous beach in Tegal
* Alun-alun Tegal, located in the front of Mesjid Agung Tegal (mosque)
* Pasar Pagi Tegal, the biggest market in Tegal
* Best food to try: satay kambing muda, teh poci, nasi lengko
* Best place to eat: Pondok makan jalan teri (pokanjari), Jalan A Yani area (at night), Restaurants in PAI, Restaurant Miraos, Restaurant Pi'an, Satay Ayam Margadana, etc.
* Bird Market in Pasar Senggol next to Alun-alun area
* Taman Poci : Small park with children playground and picnics area located in the front of Train Station, served with kioks selling Tegal exotic foods and famous Teh Poci
Never be regret to visit this town.